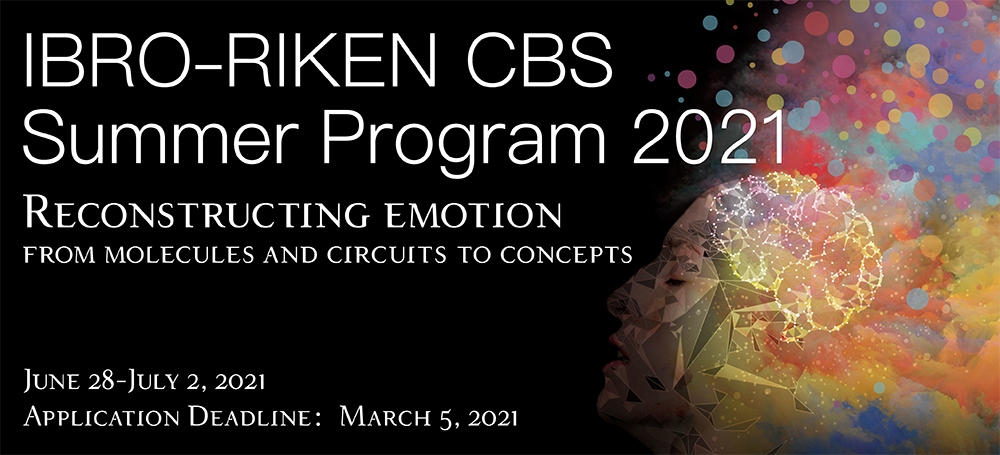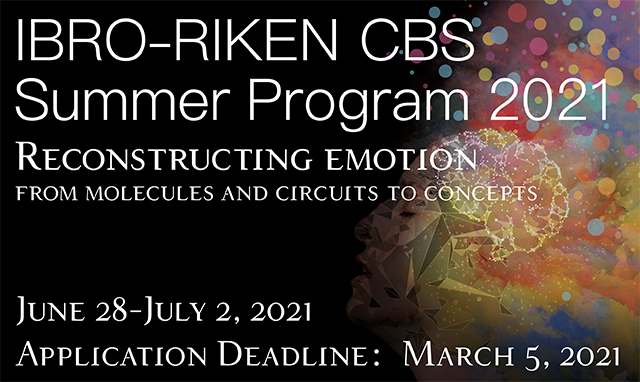 Applying
Applications for the IBRO-RIKEN CBS Summer Program 2021 are no longer being accepted. Please check back at the end of this year for information on next year's program.
We recommend that you apply early in order to ensure that your application arrives by the deadline. Please read through the instructions and the Q&A(frequently asked questions) before you prepare the application. Failure to follow all of the instructions may eliminate your application in the selection process at an earlystage. Selection results will be sent by email 4-6 weeks after the application deadline. All documents should be prepared in English.
This year will have the lecture course but not internship.
Application deadline: March 5, 2021. (23:59JST)
* The deadline of the recommendation letters is also the same day. The referees will receive an email asking them to upload the recommendation letters once you register the referees' information. It is important you make sure that your referees are aware of your request for a recommendation.
Requirements (All documents should be prepared in English)
Inquiries
Q&A (Frequently asked questions)
How will the summer program 2021 be held ?
Because of the uncertainty related to travel due to the COVID-19 pandemic, the program will be offered in a hybrid format in which students and lecturers can attend virtually or in-person. However, there is a possibility that the meeting will be entirely virtual if travel remains difficult. We will assess the situation in March and make a final decision about whether some participants can attend in person (hybrid) or whether the meeting will be completely virtual.


How to prepare application documents.


CV
Curriculum Vitae (must include the following categories)

Education (provide the institution name, highest degree obtained, and the years you studied there; start with your most recent degree)
Research experience
Publications

Motivation Letter (Reason why you wish to attend the Summer Program)
Please write a brief statement of approximately 500 words, summarizing your research background including specific fields, experimental work, laboratories etc. and how you plan to incorporate what you learn into your current and future research work.
Two letters of recommendation in English
Recommendation letters should be directly uploaded by the 2 referees individually. Auto-email will be sent to them to inform of the link when you submit the application form. Please ask your referees to check their e-mail box and upload the letters in advance of your application submission.
A letter requesting financial support (Those who need it)
Financial support for travel and accommodation will be considered for those without external funding. Any candidate intending to request financial support MUST request it when submitting his/her application. Your letter should state why you require the support. Please note that no salary supplement or support for food expenses will be provided.



How much are the registration fees?
No registration fees are required


Can I edit my application after submission?
You can edit your application until the deadline.


When is the deadline for letters of recommendation?
The deadline for submission of letters of recommendation is the same as the application deadline.


When will selection results be announced?
Selection results will be announced around late March


I would like to know whether I am eligible for the program.
Inquiries regarding eligibility won't be answered. We encourage you to apply if you are interested in


Can high school students apply?
High school students are not applicable.


I am a successful applicant for 2020 Summer Program. Can I participate in 2021 Summer Program without applying?
Successful applicants for 2020 Summer Program have to apply again and write the previous ID and course in the application form. However, this is not to guarantee for your admission for 2021.