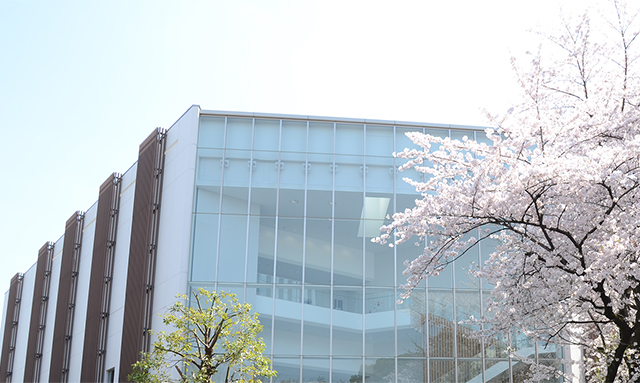 Visiting RIKEN CBS
RIKEN Center for Brain Science
2-1 Hirosawa Wako City, Saitama 351-0198 JAPAN
Access to RIKEN Wako Campus
Train (From Ikebukuro Station to Wako-shi Station)
| | |
| --- | --- |
| Tobu Tojo Line | Express and Semi Express (approx. 12 minutes) |
| Tokyo Metro Yurakucho Line | Local (approx. 19 minutes) |
| Tokyo Metro Fukutoshin Line | Express (approx. 14 minutes) |
Train (From Narita Airport/Haneda Airport to Wako-shi Station)
Narita Airport >> Wako-shi Station
Narita Airport: Airport Terminal 2 - Nippori Station
KEISEI ELECTRIC RAILWAY [Skyliner]
(approx. 40 minutes)
JR Narita Express
(approx. 90 minutes)
Nippori Station - Ikebukuro Station
JR Yamanote Line (approx. 12 minutes)
Ikebukuro Station - Wako-shi Station
Tobu Tojo Line / Express and Semi Express (approx. 12 minutes)
Tokyo Metro Yurakucho Line / Local (approx. 19 minutes)
Tokyo Metro Fukutoshin Line / Express (approx. 14 minutes)
Haneda Airport >> Wako-shi Station
Haneda Airport - Shinagawa Station
Keikyu Lines (approx. 16 minutes)
Shinagawa Station - Ikebukuro Station
JR Yamanote Line (approx. 26 minutes)
Ikebukuro Station - Wako-shi Station
Tobu Tojo Line / Express and Semi Express (approx. 12 minutes)
Tokyo Metro Yurakucho Line / Local (approx. 19 minutes)
Tokyo Metro Fukutoshin Line / Express (approx. 14 minutes)
Airport Bus (Haneda Airport - Wakoshi Station)
From Wako-shi Station to RIKEN
Walk: the institute is about a 15 minute walk from the Station
Bus: approx. 10 minutes (Bus #39 bound for Oizumigakuen)
Taxi: approx. 10 minutes
RIKEN Wako Area Map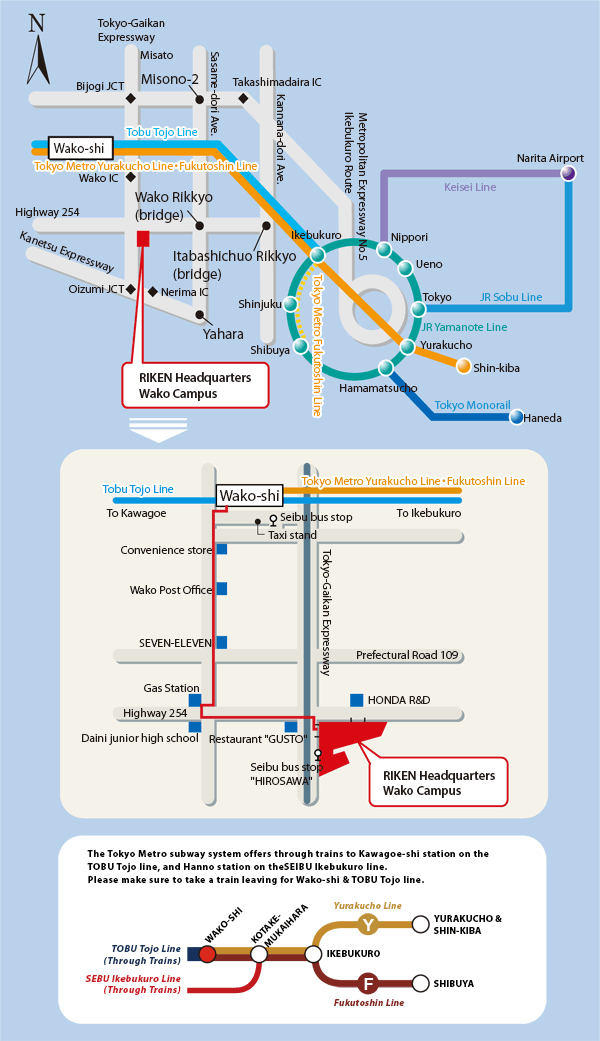 RIKEN Wako Campus Map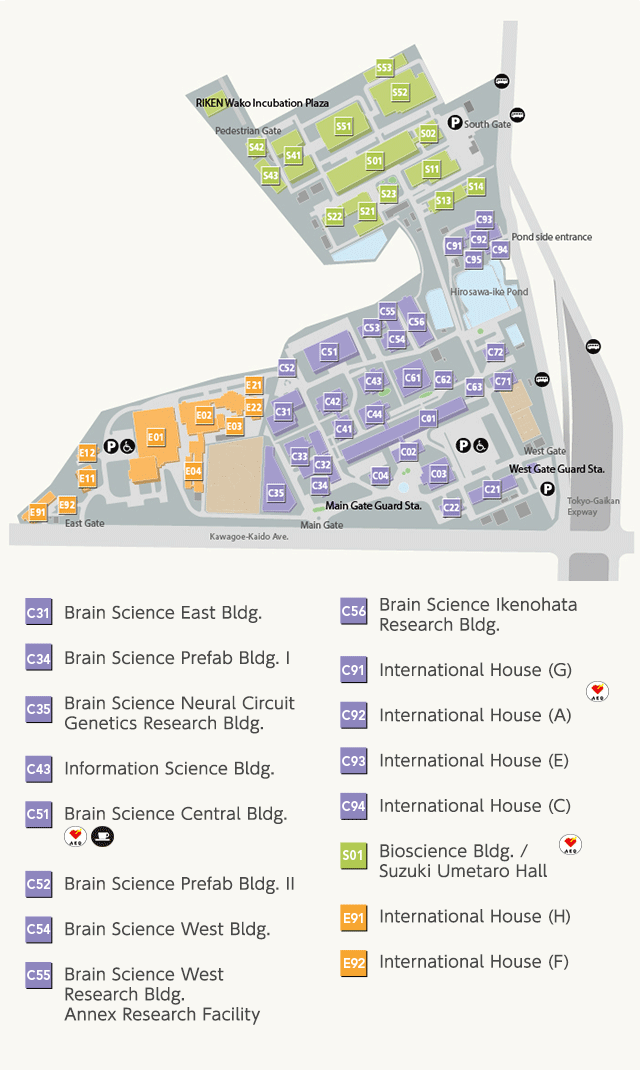 Wako Campus Entry Procedures for Visitors
Upon arrival, visitors to the RIKEN Wako campus are asked to complete the following procedures at the Guard Station.
Visitors who have been pre-registered
We recommend pre-registration by the laboratory or section that you will be visiting. If pre-registration procedures have been completed, you will receive a temporary pass and parking permit when you give a reception number and your name to the security guard at the Guard Station next to the campus gate.
Before you visit, please ask the laboratory or section you will be visiting to pre-register your name. You will be asked to provide the following information: 1) Name, 2) Affiliation (company), 3) Telephone number, 4) License plate number (if arriving by car).
Visitors who are not pre-registered
If you are not pre-registered you are asked to submit your calling card or an Application for One-Day Entry Permits for Visitors to the Guard Station when you arrive.
If you do not have a calling card, pick up an application at the table behind the signboard beside the Guard Station and submit it to the reception desk at the Guard Station (If your are submitting your calling card the form in unnecessary).
For further details contact the General Affairs Section (wwwsyomu [at] riken.jp).