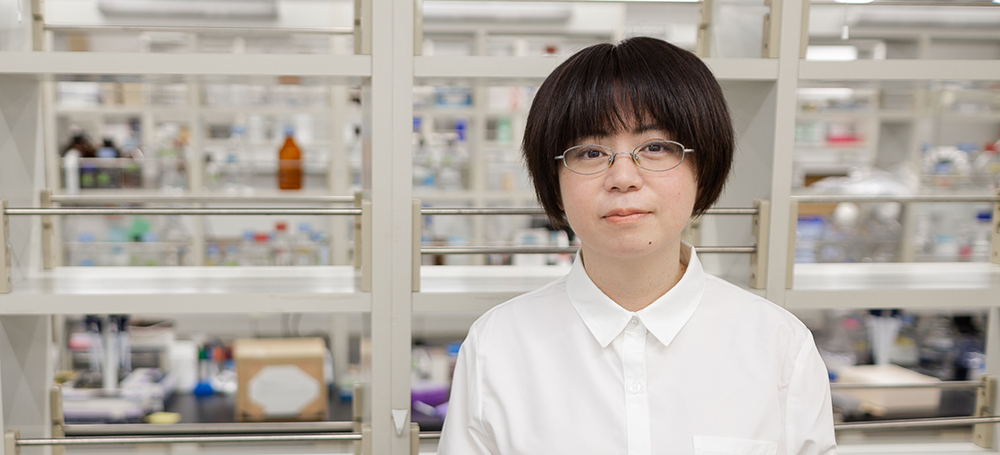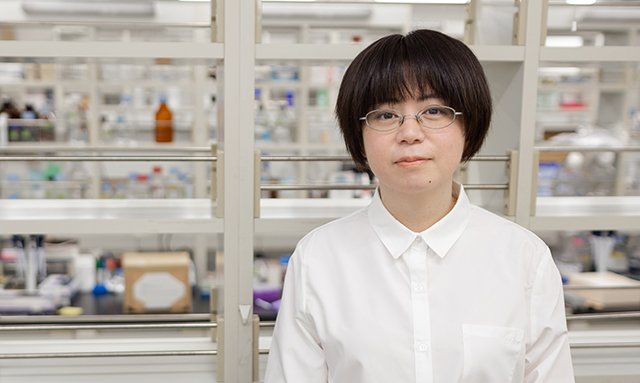 江﨑 加代子, Ph.D.
CDP-YCI: キャリア形成推進プログラム - Young Chief Investigator
研究内容
私たちの体の中でも、特に脳は脂質を豊富に含んでいる組織として知られています。脂質は、脳の中で神経細胞の情報伝達を助けている髄鞘の形成や神経細胞の突起伸長などに関与しており、脳発達・機能において脂質が果たす役割は少なくありません。近年、脳神経の異常が精神疾患の病態メカニズムにどのように関与するのかについて研究が活発に行われていますが、私はその中でも精神疾患の病態メカニズムへの脂質代謝の関与、そして脂質代謝が脳神経の機能にどのような影響を与えているのかについて研究しています。
主要論文
「*」は、理研外のみでの成果です。
Shimamoto-Mitsuyama C, Nakaya A, Esaki K, Balan S, Iwayama Y, Ohnishi T, Maekawa M, Toyota T, Dean B, Yoshikawa, T.
"Lipid Pathology of the Corpus Callosum in Schizophrenia and the Potential Role of Abnormal Gene Regulatory Networks with Reduced Microglial Marker Expression"
Cereb. Cortex, 31(1), 448-462, 2021.
Esaki K, Balan S, Iwayama Y, Shimamoto-Mitsuyama C, Hirabayashi Y, Dean B, Yoshikawa T.
"Evidence for Altered Metabolism of Sphingosine-1-Phosphate in the Corpus Callosum of Patients with Schizophrenia"
Schizophr. Bull., 46, pp. 1172-1181, 2020.
Kaplan E, Zubedat S, Rechnitz O, Sason H, Radzishevsky I, Sajrawi C, Bodner O, Konno K, Esaki K, Derdikman D, Yoshikawa T, Watanabe M, Billard J-M, Avital A, Wolosker H.
"The ASCT1 (Slc1a4) Transporter is a Physiologic Regulator of Brain D-Serine and Neurodevelopment."
Proc. Natl. Acad. Sci. USA, 115, pp. 9628-9633, 2018.
Sayano T, KawanoY, Kusada W, Arimoto Y, Esaki K, Hamano M, Udono M, Katakura Y, Ogawa T, Kato H, Hirabayashi Y, Furuya S.
"Adaptive response to L-serine deficiency is mediated by p38 MAPK activation via 1-deoxysphinganine in normal fibroblasts"
FEBS Open Bio, 6, pp. 303-316, 2016.
Esaki K, Sayano T, Sonoda C, Akagi T, Suzuki T, Ogawa T, Okamoto M, Yoshikawa T, Hirabayashi Y, and Furuya S.
"L-Serine deficiency elicits intracellular accumulation of cytotoxic deoxy-sphingolipids and lipid body formation."
J. Biol. Chem, 290, pp. 14595-14609, 2015.
* Esaki K, Ohmori T, Maebuchi M, Nakamori T, Ohshima T, Furuya S.
"Increased tyrosine in the brain and serum of mice by orally administering dipeptide SY."
Biosci. Biotech. Biochem, 77, pp. 847-849, 2013.
Sayano T, Kawakami Y, Kusada W, Suzuki T, Kawano Y, Watanabe A, Takashima K, Arimoto Y, Esaki K, Wada A, Yoshizawa F, Watanabe M, Okamoto M, Hirabayashi Y, Furuya S.
"L-Serine deficiency caused by genetic Phgdh deletion leads to robust induction of 4E-BP1 and subsequent repression of translation initiation in the developing central nervous system."
FEBS J., 280, pp. 1502-17, 2013.
Takao K, Kobayashi K, Hagihara H, Ohira K, Shoji H, Hattori S, Koshimizu H, Umemori J, Toyama K, Nakamura H. K, Kuroiwa M, Maeda J, Atsuzawa K, Esaki K, Yamaguchi S, Furuya S, Takagi T, Walton N. M, Hayashi N, Suzuki H, Higuchi M, Usuda N, Suhara T, Nishi A, Matsumoto M, Ishii S, Miyakawa T.
"Deficiency of Schnurri-2, an MHC Enhancer Binding Protein, Induces Mild Chronic Inflammation in the Brain and Confers Molecular, Neuronal, and Behavioral Phenotypes Related to Schizophrenia."
Neuropsychopharmacology, 38, pp. 1409-25, 2013.
* Esaki K**, Kokido T**, Omori T, Tsukino M, Oshima T, Furuya S. **equal contribution.
"Soy peptide ingestion increases neuroactive amino acids in the brain of wild-type and genetically engineered serine-deficient mice."
J. Nutr. Food Sci, 1, pp. 109, 2011.
Yang J.H, Wada A, Yoshida K, Miyoshi Y, Sayano T, Esaki K, Kinoshita O.M, Tomonaga S, Azuma N, Watanabe M, Hamase K, Zaitsu K, Machida T, Messing A, Itohara S, Hirabayashi Y, Furuya S.
"Brain-specific Phgdh deletion reveals a pivotal role for L-serine biosynthesis in controlling the level of D-serine, an NMDA receptor co-agonist, in adult brain."
J. Biol. Chem, 285, pp. 41380-41390, 2010.