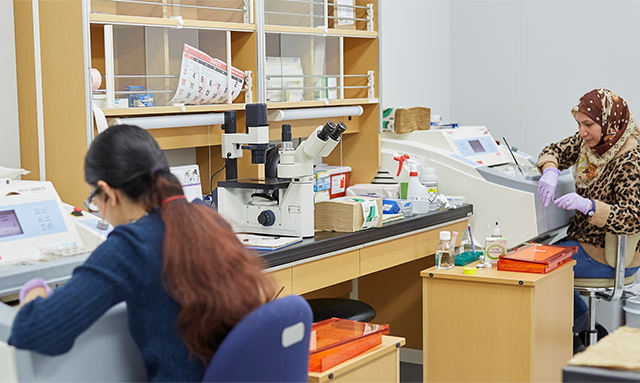 2022年1月5日
脳神経科学研究センター 知覚神経回路機構研究チーム
研究員または特別研究員募集(W21265)
Laboratory
Laboratory for Circuit Mechanisms of Sensory Perception, Center for Brain Science (Laboratory head:Hokto Kazama)
研究分野
複合領域
Research Field
Animals decide and act based on past and current sensory information. The major goal of our lab is to mechanistically understand how neural processing of external input guides behavior and how this processing is modulated depending on the environmental and behavioral contexts.

To achieve this goal, we are using the fruit fly Drosophila melanogaster, which has been increasingly recognized as one of the ideal organisms for investigating the neural circuit basis of behavior. Due to the relatively small number of central neurons, many neurons in the fly brain are identifiable and accessible. We can monitor the responses of these neurons to sensory stimuli by in vivo electrophysiology and imaging. Various genetic tools are available for not only labeling but also manipulating neurons. On the other hand, technologies have been developed to monitor individual flies behaving in a virtual environment where external stimuli can be precisely controlled online. With these data in hand, we will utilize quantitative modeling approaches to better understand the computation and the neural mechanisms underlying behavior at cellular, synaptic and circuit levels.
Job title and job description
Postdoctoral Researcher or Research Scientist (1 position)
Postdoctoral Researcher is defined as those with a doctoral degree of 5 years or less.
Research Scientist/Contract Researcher is defined as those with a doctoral degree more than 5 years.
Job description
Studying the computations and mechanisms underlying sensory-guided behaviors.
Qualification
The candidate should have or be expecting to receive a Ph.D. in related fields and should be enthusiastic about the research described above. Strong background in systems neuroscience, in-vivo imaging, behavioral analysis, programming, and data analysis is desirable.
Work location
Branch and address
RIKEN Wako (2-1 Hirosawa, Wako, Saitama 351-0198)
Salary and benefits
A one-year fixed-term employment contract, renewable based on evaluation, to a maximum of the end of the fiscal year (March 31) in which the employee completes 7 years of employment. (Maximum employment duration for a Postdoctoral Researcher is 5 years)
RIKEN may adjust the above maximum period of renewability based on a) the employee's abilities, work load at the time of contract completion, performance and work attitude and b) the continuation of the employee's center, laboratory or project and RIKEN's management situation and budget at the time. In principle, employment contracts will not be renewed for individuals older than 65 years.
The employee's period of fixed-term employment cannot exceed 10 years from the initial date of hire (or 10 years from April 1, 2013, for fixed-term employees already at RIKEN prior to this date).
In principle, the first two months of employment is considered a trial period.
Salary will be commensurate with qualifications and experience. Discretionary work, commuting and housing allowances will be provided. Social insurance will be applied. Mandatory membership in the RIKEN Mutual Benefit Society (RIKEN Kyosaikai).

This position falls under the specialized duties discretionary work system; one working day will be calculated as 7 hours and 30 minutes.

Days off include public holidays, New Year's holidays (Dec. 29 - Jan 3), and RIKEN Foundation Day.
Paid leave includes annual paid leave (up to 20 days depending on the month of employment), special paid leave (childcare, family nursing care, etc.), and work life balance holidays (up to 7 days depending on the month of employment).
There are also additional leave systems such as maternity leave, childcare leave, and family nursing care leave.
RIKEN has introduced telework as a temporary and special measure to prevent the spread of COVID-19. You may be asked to work from home according to the instructions of the institute. You can also choose to work from home with the permission of your supervisor.
No smoking on site (designated smoking areas available).
These and other provisions are in accordance with RIKEN regulations.

RIKEN is actively undertaking initiatives to promote Gender Equity Program, and moving forward with the establishment of a diverse and vibrant research environment. If multiple candidates are found to have the same aptitude following a fair assessment, active efforts will be made to recruit female candidates.
Application and required documents
Required documents
Complete CV (with photo and email address)
(RIKEN CV: WORD(56KB) or EXCEL(159KB) )
(*Write down in the notes section of your CV the number written next to the title of the job position (e.g. W21265)
List of research achievement
External funding awarded
Summary of research experience to date
Reason for applying for the post (personal strengths, motivation, future research plans, career aspirations, etc.)
A letter of recommendation from the current supervisor (If unavailable, a letter from a substitute reference will be acceptable.)
Consent form for handling personal information based on GDPR
If you are a resident of the European Economic Area (EEA), you are required to submit the document, "Consent form for handling personal information based on GDPR" with your signature.

*You will find detailed information about General Data Protection Regulation (GDPR) on the following website:
https://ec.europa.eu/info/law/law-topic/data-protection_en
How to apply
The above documents except the recommendation letters combined into a single ZIP file should be sent to the following address:
Email: hokto.kazama [at] riken.jp *Please replace [at] with @.

Note: All the submitted documents will not be returned.
Deadline
Open until the position is filled
Handling personal data
Submitted documents are strictly protected under the RIKEN Privacy Policy and will be used only for the purpose of applicant screening. Personal information will not be disclosed, transferred or loaned to a third party under any circumstances without just cause.
Selection process
Selection will be made based on application screening and interviews.
Start of Employment
April 1st, 2022 (Negotiable)
Contact Information
RIKEN Center for Brain Science
Laboratory for Circuit Mechanisms of Sensory Perception
Email: hokto.kazama [at] riken.jp (Replace [at] with @ )
For inquiries, please send an email.