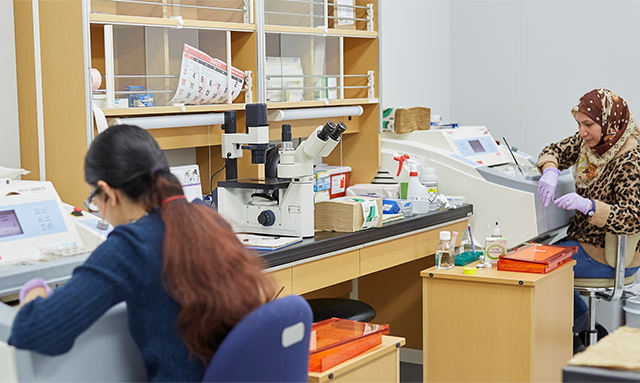 2020年1月20日
脳神経科学研究センター 神経回路・行動生理学研究チーム
パートタイマー募集(W19259)
Laboratory
Laboratory for Circuit and Behavioral Physiology, Center for Brain Science (Team leader:Thomas McHugh)
Research area
Biology
Keyword
Molecular biology, PCR, cell culture
About lab
We combine in vivo electrophysiology and imaging with cutting-edge conditional genetics to address how memories are encoded, consolidated and recalled.
Job title and description
Positon & number of opening
Research part-time worker I or II 1 position
Job description
Assist in ongoing experiments, including cell culture, viral production, genotyping and construct production.
Qualifications
Educational background
B.S or MA in a relevant field.
Experience and knowledge
We seek a highly motivated researcher with an interest in molecular biology and its application to neuroscience. Experience in molecular techniques (cell culture, PCR, cloning, etc) is necessary. Applicants must be comfortable working in an international setting
Work location
Branch and address
RIKEN Center for Brain Science
RIKEN Wako (2-1 Hirosawa, Wako, Saitama 351-0198)
Salary and benefits
Hourly salary
1100~1600 JPY(salary will be commensurate with qualifications and experience)
Allowance
commuting allowance
Contract period
2020/4/1~2021/3/31
Annual contract renewable upon agreement of both sides, based on skills, work amount at the expiry of the contract, work performance, RIKEN's financial conditions , and others. Total duration may not exceed 5 years, in principle. (Note: For persons applying from within RIKEN, total years of employment at RIKEN may not exceed 5 years in total, counting from April 1, 2013. Other provisions are the same as for a new hire.) Please refer "RIKEN employment duration for fixed-term employees" for more details if necessary
Hours
9:00-15:50 (negotiable)
maximum of 35h per week
Days off
National holidays, Saturdays and Sundays, year-end holidays, RIKEN Foundation Day
Other conditions
Compulsory welfare program: workers' accident compensation insurance
No smoking on campus except the allowance area
Application and required documents
Required documents
Complete CV WORD(56KB) or EXCEL(159KB)
Description of skills, experience and interests.
Reasons for applying for the post
List of references
Consent form for handling personal information based on GDPR
If you are a resident of the European Economic Area (EEA), you are required to submit the document, "Consent form for handling personal information based on GDPR" with your signature.

*You will find detailed information about General Data Protection Regulation (GDPR) on the following website: https://ec.europa.eu/info/law/law-topic/data-protection_en
Please send your application by email.
Write the 5 digit number beginning with "W19259", indicated in the parentheses next to the job title, in the open call ID section in the upper right corner of your CV.
Deadline
Open until the position is filled
Handling personal data
Submitted documents are strictly protected under the RIKEN Privacy Policy and will be used only for the purpose of applicant screening. Personal information will not be disclosed, transferred or loaned to a third party under any circumstances without just cause.
Selection process
Application screening and interview for selected applicants.
Start of employment
April 1, 2020 (negotiable)
Remarks
Please contact by email if you have any questions
本公募は英語のみでのご案内です。
Contact information/Send application to
RIKEN, CBS
Lab for Lab for Circuit and Behavioral Physiology
Attn.: Thomas McHugh
Emal: thomas.mchugh[at]riken.jp (Replace [at] with @)