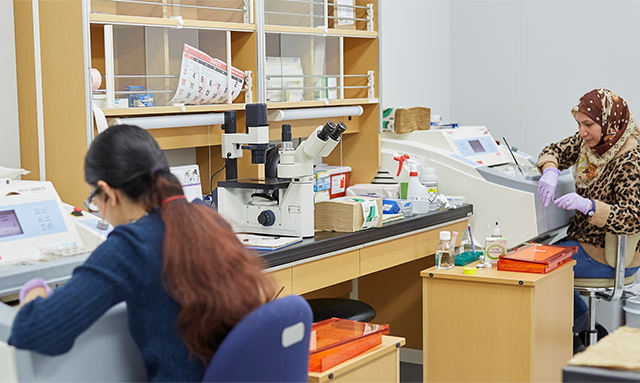 2018年6月8日
Technical staff position
Thomas Launey Lab. for Synaptic Molecules of Memory Persistence
Center for Brain Science (W895)
Laboratory
Laboratory for Synaptic Molecules of Memory Persistence, Center for Brain Science
(PI: T. Launey)
Research field and overview
Proteins in neurons are constantly destroyed and re-synthesized anew. Yet, proteins form the substrate of memories that may last for decades in the nervous system. We are investigating the cellular and molecular basis of very long term synaptic plasticity in the cerebellum, at the granule cell-Purkinje cell synapses. Our aim is to understand the role and mechanisms of signaling cascades accompanying the long-lasting aspects of plasticity with a focus on stable reorganization of protein assemblies, modifications of local protein expression and organelles translocation. Our approaches combine in vitro patch-clamp recording, optogenetics with expression of both effectors and sensors, targeted/inducible gene expression/silencing and high resolution imaging, at the cellular and EM level.
Job title, available positions and job description
Job title, available positions
Technical Staff (1 fixed-term employee / 2 Special appointment employee)
Job description
We are seeking an experienced and enthusiastic Technical Staff to support and advance our work investigating the cellular/molecular mechanisms of memory stability in mammals. The qualified candidates will have a demonstrable proficiency in standard molecular biology and cell biology techniques. Good communication skills, excellent work ethics, ability to work in international/multi-cultural team and commitment to keep complete record are all required.
Primary duties and responsabilities include:
(Training will be provided for the techniques less/not familiar to the candidate)
Construction and production of plasmids for transfection into neurons and expression of proteins to disrupt/enhance/measure synaptic plasticity.
Preparation and maintenance of brain cell culture.
Immunofluorescence of cell culture and tissue section.
Imaging by confocal microscopy.
Genotyping of Mouse colonies maintained by the lab.
Co-organizing the ordering and storing of research reagents (with Lab Manager), servicing equipment, developing new protocols and training new laboratory members.
Prior experience in live-cell imaging technology or with high throughput experimental approaches would be a plus but is not mandatory.
Qualifications
Minimum qualifications is a BS degree in Life Science and >2 years experience in a research laboratory in a similar position.
Work location
Branch and address
RIKEN Wako (2-1 Hirosawa, Wako, Saitama 351-0198)
Salary and benefits
A one-year fixed-term employment contract, renewable based on evaluation, to a maximum of the end of the fiscal year (March 31) in which the employee completes 7 years of employment.
RIKEN may adjust the above maximum period of renewability based on a) the employee's abilities, work load at the time of contract completion, performance and work attitude and b) the continuation of the employee's center, laboratory or project and RIKEN's management situation and budget at the time. In principle, employment contracts will not be renewed for individuals older than 65 years.
The employee's period of fixed-term employment cannot exceed 10 years from the initial date of hire (or 10 years from April 1, 2013 for fixed-term employees already at RIKEN prior to this date).
The salary system is annual and will be commensurate with qualifications and experience. Commuting and housing allowances will be provided. Social insurance will apply. Mandatory membership in the RIKEN Mutual Benefit Society (RIKEN Kyosaikai) is required.
Days off include public holidays, New year's holidays (Dec. 29 – Jan. 3), and RIKEN Foundation Day.
These and other provisions are in accordance with RIKEN regulations.
※RIKEN promotes a Gender Equity Program by taking various measures to create an equitable workplace where both men and women are able to give full rein to their talents and abilities. When the abilities of candidates are judged to be equivalent through a fair and impartial evaluation process, preference will be given to females.
http://www.riken.jp/careers/gender/
Application and required documents
Required documents
Complete CV (with photo and email address) WORD(56KB) or EXCEL(159KB)

Two recommendation letters (+ contact information) from previous employers or co- workers in management position
Please send your application by email.
Note: Please write the 4 digit number beginning with "W", indicated in the parentheses next to the job title, in the open call ID section in the upper right corner of your CV.
How to apply
Send the enquiry/application by email to thomas.launey[at]riken.jp
(Recommendation letters must be emailed directly from the reference to thomas.launey[at]riken.jp)
Note: Application documents will not be returned.
Deadline
Open until the position is filled
Handling personal data
Submitted documents are strictly protected under the RIKEN Privacy Policy and will be used only for the purpose of applicant screening. Personal information will not be disclosed, transferred or loaned to a third party under any circumstances without just cause.
Selection process
Application screening and interview for selected applicants
Start employment
As early as possible
Remarks
本公募は英語のみでのご案内です。
Contact information/Send application to
Dr. T. Launey (Team Leader) / Y. Motoyama (Laboratory Manager)
Lab. Synaptic Molecules of Memory Persistence
RIKEN Center for Brain Science
2-1 Hirosawa, Wako, Saitama 351-0198, Japan
Email: Thomas.launey[at]riken.jp
For inquiries, please send an email.