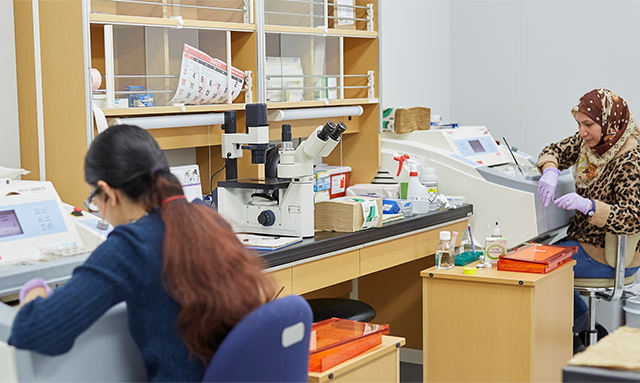 2017年5月19日
Research Scientist in RIKEN Center for Brain Science
Laboratory for Neurodiversity, Adrian Moore(W617)
Laboratory
Laboratory for Neurodiversity, Center for Brain Science
(Laboratory Head: Adrian Moore)
Research Field
Neuronal Development, Molecular Biology, Transcriptomics
Job title and Job description
Job title, available positions
Research Scientist: 1 position(s)

Job description
The candidate will develop novel single cell profiling technologies, and apply them to study neuronal development. Additional neuronal development studies will also be carried out. The single cell profiling technology development component of this project will be carried out in close collaboration with the Genomics Miniaturization Technology Unit (Plessy; RIKEN Center for Life Science Technologies, Yokohama, Japan).

A demonstrated record of technical and intellectual molecular biology excellence is the primary criterion for this position. The candidate is expected to play a leading role in a collaborative team, and a proven ability to function effectively in a team will be also considered in the selection process.

Working level English is required. Japanese language skills are not a requirement. Candidates with native level Japanese language skills are strongly encouraged to apply.

- Laboratory for Neurodiversity
- Genomics Miniaturization Technology Unit
- RIKEN Single Cell Project
Qualification
Possess a doctoral degree in Molecular Biological or Molecular Medical Sciences, or the candidate will be able to obtain a doctoral degree by Molecular Biological or Molecular Medical Sciences before the work start date.
Work location
Branch and address
RIKEN Wako (2-1 Hirosawa, Wako, Saitama 351-0198)
Salary and benefits
One-year fixed-term employment contract, renewable based on evaluation, up to the end of the fiscal year exceeding seven years since the initial date of hire.
RIKEN will decide whether to enter into a new contract on the basis of the employee's abilities, work load, performance, work attitude, continuation of the center, laboratory or project in which the employee is involved at the time of termination of the original contract, and on the basis of RIKEN's situation and budget conditions at the time.
In principle, employment contracts will not be renewed for individuals older than 65 years.
For contracts entered into on or after April 1, 2013, RIKEN will not enter into a new fixed-term employment contract that extends the employee's total years of employment at RIKEN to more than 10 years.
Salary will be commensurate with qualifications and experience. Commuting and housing allowances will be provided. Social insurance will be applied. Mandatory membership in the RIKEN Mutual Benefit Society (RIKEN Kyosaikai). Days off include public holidays, New Year's holidays (Dec. 29 - Jan 3), and RIKEN Foundation Day.
These and other provisions are in accordance with RIKEN regulations.
RIKEN is promoting a Gender Equity Program by taking various measures to create a workplace where both men and women are able to give full rein to their talents and abilities. When applicants are judged to be equally qualified on the basis of fair and impartial criteria, women applicants will be given preference.
http://www.riken.go.jp/en/careers/working-at-riken/benefits/
Also, eligible for an exemption from repayment for category 1 scholarship loans provided by the Japan Student Services Organization before fiscal year 2003, and eligible applying for the MEXT Grants-in-Aid for Scientific Research (Kakenhi).
Application and required documents
CV WORD(56KB) or EXCEL(159KB) (with photo and email address)
*Write the 4 digit number beginning with "W617", indicated in the parentheses next to the job title, in the open call ID section in the upper right corner of your CV.
Write down in the notes section of your CV the number written next to the title of the job position (e.g. W001).
The names and email address of 3 potential referees (do not ask referees to send references in advance)

A short (up to 1 page) description of research interests, present achievements, skills, and goals
In addition to the above three items, the following documents are required for all candidates: "Confirmation Sheet", "Copy of ID" and "Confirmation of employment duration and duties form". For non-Japanese candidates, visa related documents will also be required.
[How to apply]
Please select an application method based on the examples below. Send application by email to adrian.moore [at] riken.jp
Note: Application documents will not be returned.

[Deadline]
Open until the position is filled

[Handling Personal Data]
Handling of Personal Data: All private data sent to RIKEN in application for employment is handled in strict confidentiality, and such data is not utilized for any other purpose or disclosed to any third party. Application documents will not be returned.
Selection process
Application screening; followed by interview and an oral presentation by shortlisted applicants
Start of Employment
As early as possible
Contact information/Send application to
RIKEN CBS
Laboratory for Neurodiversity
2-1 Hirosawa, Wako, Saitama 351-0198
Email: adrian.moore [at] riken.jp (Replace [at] with @ ) For informal inquiries, please send an email
その他
こちらの公募は英語のみでのご案内です。