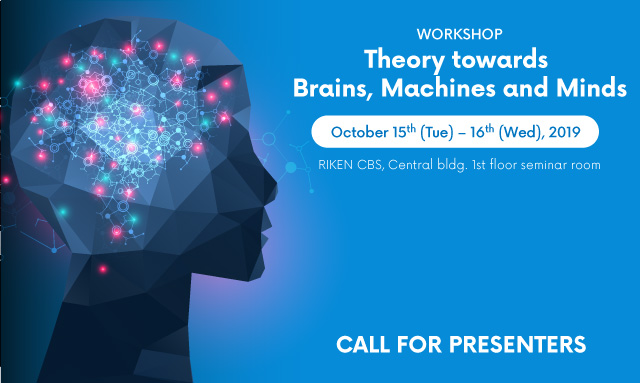 Theory towards Brains, Machines and Minds
Workshop: Theory towards Brains, Machines and Minds
The development of theoretical studies towards brains, machines, and minds will play a significant role in the future of brain science. It will guide analyses of big neuroscientific data and our understanding of brain information processing, contribute to a systematic exploration of the relationships between brain and mind, and accelerate the construction of computational machines inspired by brain intelligence and neural computations of mind. This workshop "Theory towards Brains, Machines and Minds", will be held to explore current and future perspectives on theoretical studies contributing to brain science and the human sciences that will emerge.
Date
October 15th (Tuesday) – 16th (Wednesday), 2019
Place
RIKEN Center for Brain Science, Central building 1st floor seminar room(2-1 Hirosawa, Wako, Saitama 351-0198)
Call for Presenters
Application deadline is August 16th, 5:00pm JST
We welcome presentations from young scientists. Students or those who have recently completed a PhD are encouraged to apply, as are those who received their PhD within the past ten years.
Although the emphasis is on young scientists' presentations, this does not exclude presentations by senior scientists. We welcome new perspectives on computational neuroscience and participation from scientists in other fields like machine learning, AI, data science and physics.
Also, we welcome presentations from scientists in other fields (such as machine learning, AI, data science, physics), who would like to bring in their own ideas to computational neuroscience.
RIKEN CBS will provide financial support for travel and lodging expenses. Participation in this workshop is free.
RIKEN CBS is planning to open PI positions for theoretical studies in a near future, so we would welcome stimulating presentations for future computational neuroscience.
Applications are no longer being accepted.
Programs
To be announced. (We will post program and details of the workshop here, once determined; this will be also announced in a few mailing lists.)
Organizer
RIKEN CBS
Hiroyuki Nakahara (Chair)・Taro Toyoizumi (Co-chair)・Keiji Tanaka(Adviser)
Contact
theoryworkshop[at]ml.riken.jp
Please replace "[at]" with "@"