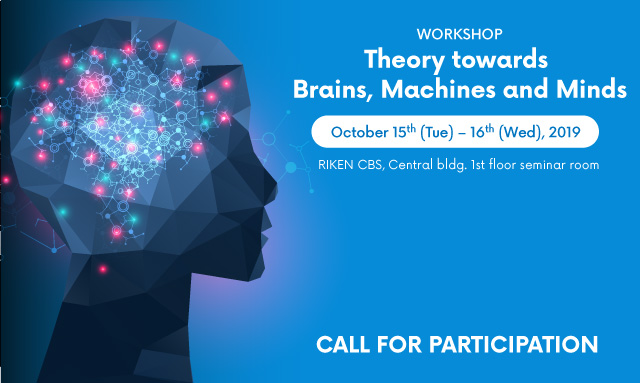 Theory towards Brains, Machines and Minds
Workshop: Theory towards Brains, Machines and Minds
The development of theoretical studies towards brains, machines, and minds will play a significant role in the future of brain science. It will guide analyses of big neuroscientific data and our understanding of brain information processing, contribute to a systematic exploration of the relationships between brain and mind, and accelerate the construction of computational machines inspired by brain intelligence and neural computations of mind. This workshop "Theory towards Brains, Machines and Minds", will be held to explore current and future perspectives on theoretical studies contributing to brain science and the human sciences that will emerge.
To join, please click on "Registration Form" below and proceed. There are no requirements for participation in this workshop.
Date
October 15th (Tuesday) – 16th (Wednesday), 2019
Place
RIKEN Center for Brain Science, Central building 1st floor seminar room(2-1 Hirosawa, Wako, Saitama 351-0198)
Speakers
Programs
Workshop program has been released.
The program is here.
Registration for Participation
We offer seats on the first-come-first-served basis, and there is a chance that your application will be declined due to the limited capacity of the venue.

Fee: Free of charge
Deadline: Register no later than Oct. 4, 2019

We email those who can participate in the workshop.
Please set your e-mail so that you can receive e-mails from the domain @form.kintoneapp.com.
We have reached capacity for the workshop and registration has been closed.
Organizer
RIKEN CBS
Hiroyuki Nakahara (Chair)・Taro Toyoizumi (Co-chair)・Keiji Tanaka(Adviser)
Contact
theoryworkshop[at]ml.riken.jp
Please replace "[at]" with "@"