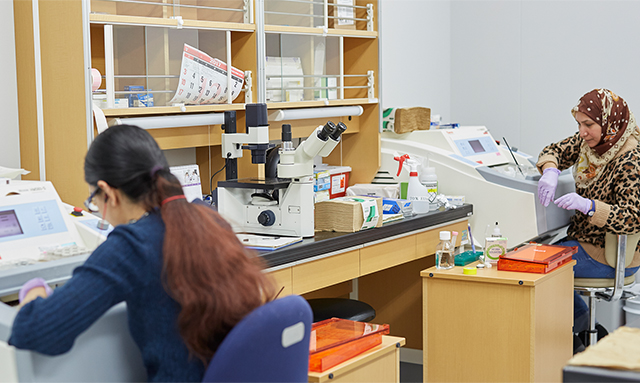 Mar. 17, 2023
Seeking Technical Staff for Neuroscience Research(W22342)
Laboratory for distributed cognitive processing
Center for Brain Science
Laboratory
Laboratory for distributed cognitive processing, Main group, Center for Brain Science, (Laboratory Head: Lukas Ian Schmitt)
Research Area
Engineering, Biology, Medical Science, Interdisciplinary
Keyword
Mouse,Microscopy,Molecular Biology,Surgery,Optogenetics,Histology,Physiology,Imaging
Research field
Understanding the basis of cognitive functions like attention and sensory decision-making requires investigation of interactions among complex, interdependent networks of brain circuits. My team studies how such networks, particularly those formed between thalamic and cortical areas, are engaged to perform the computations that enable the human ability to flexibly extract meaningful information from a noisy world and use it to guide thought and action. By investigating these processes, we hope to make progress in understanding the basic principles of cognitive function and to translate the insight we obtain into novel approaches to treat complex disorders such as schizophrenia and autism.
Job title and description
Job title, available positions
Technical staff I (discretionary labor system) or technical staff Ⅱ(non discretionary labor system) 1 position
*Technical staff I must provide technical supports independently to implement the lab missions.
**Technical staff II must provide technical supports under the direction of the supervisor.
*The applicant will be assigned to an appropriate position based on his/her ability, aptitude, etc.
Job description
Responsibilities of this position include providing technical support to researchers performing single unit recordings in behaving animals. The technical staff member would be expected to assist with a new project seeking to investigate the role of thalamic inhibition in stable perceptual experience. This would include supporting behavioral/electrophysiological/optogenetic experiments using animal models (mice) being performed by lab members as well as associated duties such as animal care and feeding. If there is interest, the individual would also be trained in the use of fiber photometry systems to optically measure brain activity.
Qualifications
We welcome all enthusiastic and candidates with the following qualifications:
Bachelor's degree (Life/Natural sciences or engineering preferred)
Sufficient ability to communicate in English and in Japanese.
Technical skills and curiosity are a plus (see below)
We will consider all qualified candidates that are interested in the research and willing to learn the needed experimental techniques. Background in experimental work in neuroscience employing animal models would also be beneficial but is not required. Good manual coordination and basic laboratory skills (particularly related to microscopy) would be useful and would be important if the individual wishes to learn to fiber photometry-based recording techniques.
Work location
Branch and address
RIKEN Wako (2-1 Hirosawa, Wako, Saitama 351-0198)
Salary and benefits
A one-year fixed-term employment contract, renewable based on evaluation to a maximum of 2028/12/31.
RIKEN may adjust the above maximum period of renewability based on a) the employee's abilities, work load at the time of contract completion, performance and work attitude and b) the continuation of the employee's center, laboratory or project and RIKEN's management situation and budget at the time. In principle, employment contracts will not be renewed for individuals older than 65 years.
In principle, the first two months of employment is considered a trial period.
Salary will be a monthly salary based on experience, ability, and performance, and will consist of a base salary and a variable salary. The variable salary will be determined each fiscal year based on experience, ability, and performance. The monthly base salary will be 206,900 JPY as of April 1st, 2023. The monthly base salary and variable salary are subject to change due to amendments to RIKEN regulations.

Discretionary work (Technical staff I), commuting and housing allowances will be provided. Social insurance will be applied.

The approximate amount of annual salary at the time of employment:
The monthly salary including discretionary work allowance at the time of employment will be 234,000 JPY or more for Technical staff I.
The monthly salary at the time of employment will be 209,000 JPY or more for Technical staff II.

Mandatory membership in the RIKEN Mutual Benefit Society (RIKEN Kyosaikai).

Technical staffⅠposition falls under the specialized duties discretionary work system; one working day will be calculated as 7 hours and 30 minutes.
Technical staffⅡfalls under the non-discretionary work system; Work hours: 9:00 to 17:20 (lunch break 12:00 to 12:50). Supervisors may instruct employees to work outside of these hours.

Days off include public holidays, New Year's holidays (Dec. 29 - Jan 3), and RIKEN Foundation Day.
Paid leave includes annual paid leave (up to 20 days depending on the month of employment), special paid leave (childcare, family nursing care, etc.), and work life balance holidays (up to 7 days depending on the month of employment).
There are also additional leave systems such as maternity leave, childcare leave, and family nursing care leave.
RIKEN has introduced telework as a temporary and special measure to prevent the spread of COVID-19. You may be asked to work from home according to the instructions of the institute. You can also choose to work from home with the permission of your supervisor.
Smoking is not permitted on site except in designated smoking areas. Smoking will be entirely prohibited on site from April 2024.
These and other provisions are in accordance with RIKEN regulations.
RIKEN is actively undertaking initiatives to promote gender equality and diversity, and moving forward with the establishment of a diverse and vibrant research environment. If multiple candidates are found to have the same aptitude following a fair assessment, active efforts will be made to recruit female candidates.
The Wako Campus has an on-site daycare, RIKEN Kids Wako. For details, please send an email to the HR at kids [at] riken.jp.
Application and required documents
Complete CV (with photo and email address)
WORD(56KB) or EXCEL(159KB)
Write down in the notes section of your CV the number written next to the title of the job position (e.g. W22342).
List of achievement (if available)
List of acquired skills
Reason for applying for the post (personal strengths, motivation, etc.)
A letter of recommendation from the current supervisor (If unavailable, a letter from a substitute reference will be acceptable.)
*Please specify the referee's contact information (Name, affiliation, job title, phone number, and email address)
Consent form for handling personal information based on GDPR
If you are a resident of the European Economic Area (EEA), you are required to submit the document, "Consent form for handling personal information based on GDPR" with your signature.

*You will find detailed information about General Data Protection Regulation (GDPR) on the following website: https://ec.europa.eu/info/law/law-topic/data-protection_en
How to apply
The above documents except the recommendation letters combined into a single ZIP file should be uploaded to the following website:
https://riken-share.ent.box.com/f/3143d7eb21dc44e58ac310e940071e39
Please indicate in the application the position sought (Technical Staff Position, Distributed Cognitive Processing Team, Center for Brain Science, RIKEN) in the application.
The file name of the ZIP file should contain your contact email address.

After you uploaded the application file, please let us (lukas.schmitt [at] riken.jp) know the file name.

Recommendation letters must be directly submitted from the referees to the following website with the file name "Center for Brain Science Technical Staff [applicant's name] (Recommendation letter)".

https://riken-share.ent.box.com/f/36e5722515e1478f9a83aaa89830bbb0

Please specify the applicant's name, referee's name and contact information in the recommendation letter.
After the referees uploaded the recommendation letter, please let us (lukas.schmitt [at] riken.jp) know the file name of the uploaded file.
If a confirmation email is not received within 7 days after submission, please contact:lukas.schmitt [at] riken.jp.

Note: All the submitted documents will not be returned.
Deadline
Open until the position is filled
Handling personal data
Submitted documents are strictly protected under the RIKEN Privacy Policy and will be used only for the purpose of applicant screening. Personal information will not be disclosed, transferred or loaned to a third party under any circumstances without just cause.
Selection process
Application screening and interview for selected applicants
Start of employment
As early as possible
Contact information
RIKEN Center for Brain Science
Laboratory/Research Unit for Distributed Cognitive Processing
Email: lukas.schmitt [at] riken.jp (Replace [at] with @ )
For inquiries, please send an email either in English or in Japanese.