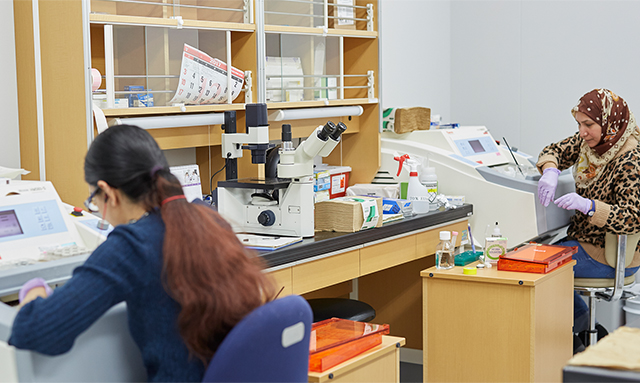 Seeking Technical Staff I, Masako Tamaki, Cognitive Somnology RIKEN Hakubi Research Team(W21276)
Feb. 7, 2022
Seeking Technical Staff I
Cognitive Somnology RIKEN Hakubi Research Team(W21276)
Laboratory
Cognitive Somnology RIKEN Hakubi Research Team, Center for Brain Science (Team Leader: Masako Tamaki)
Research Area
Engineering, Mathematical Science, Computational Science, Biology, Medical Science, Interdisciplinary
Keyword
Sleep, learning, memory, cognition, dream, decision-making, MRI, EEG
Research Area
Why do we think and behave the way we do? Accumulating behavioral evidence suggests that the sleeping brain plays a critical role in our thoughts and actions. However, little is known about the ways the sleeping brain accomplishes this work. In the Cognitive Somnology lab, we develop and integrate various neuroimaging (including 3T and 7T MRI), physiological (polysomnography including EEG), and psychophysics techniques to elucidate the fundamental role of the sleeping brain in human cognition and behavior.
Job Title and Job Description
Job Title
Technical staff Ⅰ (discretionary labor system)
*Technical staff I must provide technical supports independently to implement the lab missions.
Job Description
The successful candidate will assist and carries out experiments, data analyses, data and document managements, and other work related to the lab's research projects.
Qualifications
The candidates should be highly motivated in the team's research topics
The candidates should be proactive, have good communication skills, and be able to cooperate with the relevant personnel to fulfill the tasks
The candidates should have research experiences in a relevant field (e.g. psychology, sleep, neuroscience, engineering, computer science, statistics)
The candidates should have experiences in conducting human experiments and data analyses
The candidates should be proficient in a programming language (e.g. Matlab, R, Python)
The candidates should have a BA or expect to receive a BA before the date of employment
Work Location
Branch and address
RIKEN Wako (2-1 Hirosawa, Wako, Saitama 351-0198)
Salary and Benefits
A one-year fixed-term employment contract, renewable based on evaluation, to a maximum of the end of the fiscal year (March 31) in 2028.
RIKEN may adjust the above maximum period of renewability based on a) the employee's abilities, work load at the time of contract completion, performance and work attitude and b) the continuation of the employee's center, laboratory or project and RIKEN's management situation and budget at the time. In principle, employment contracts will not be renewed for individuals older than 65 years.
The employee's period of fixed-term employment cannot exceed 10 years from the initial date of hire (or 10 years from April 1, 2013, for fixed-term employees already at RIKEN prior to this date). However, employees who have previously worked at RIKEN may be subject to different rules for the period of fixed-term employment. Please refer to "RIKEN employment duration for fixed-term employees" for more details if necessary.).
In principle, the first two months of employment is considered a trial period.
Salary will be commensurate with qualifications and experience. Discretionary work, commuting and housing allowances will be provided. Social insurance will be applied. Mandatory membership in the RIKEN Mutual Benefit Society (RIKEN Kyosaikai).

Technical staffⅠposition falls under the specialized duties discretionary work system; one working day will be calculated as 7 hours and 30 minutes.

Days off include public holidays, New Year's holidays (Dec. 29 - Jan 3), and RIKEN Foundation Day.
Paid leave includes annual paid leave (up to 20 days depending on the month of employment), special paid leave (childcare, family nursing care, etc.), and work life balance holidays (up to 7 days depending on the month of employment).
There are also additional leave systems such as maternity leave, childcare leave, and family nursing care leave.
RIKEN has introduced telework as a temporary and special measure to prevent the spread of COVID-19. You may be asked to work from home according to the instructions of the institute. You can also choose to work from home with the permission of your supervisor.
No smoking on site (designated smoking areas available).
These and other provisions are in accordance with RIKEN regulations.
RIKEN is actively undertaking initiatives to promote gender equality and diversity, and moving forward with the establishment of a diverse and vibrant research environment. If multiple candidates are found to have the same aptitude following a fair assessment, active efforts will be made to recruit female candidates.
Application and Required Documents
Complete CV (with photo and email address)
WORD(56KB) or EXCEL(159KB)
(*Write down in the notes section of your CV the number written next to the title of the job position (e.g. W21276)
List of research achievement
List of skills
Reason for applying for the post
A letter of recommendation from the current supervisor (If unavailable, a letter from a substitute reference will be acceptable.)
*Please specify the referee's contact information (Name, affiliation, job title, phone number, and email address)
Consent form for handling personal information based on GDPR
If you are a resident of the European Economic Area (EEA), you are required to submit the document, "Consent form for handling personal information based on GDPR" with your signature.

*You will find detailed information about General Data Protection Regulation (GDPR) on the following website: https://ec.europa.eu/info/law/law-topic/data-protection_en
How to apply
The above documents should be submitted via email.
Email: masako.tamaki [at] riken.jp (Replace [at] with @ )
Recommendation letter must be directly submitted from the referee via email.
Note: All the submitted documents will not be returned.
Deadline
Open until the position is filled
Handling personal data
Submitted documents are strictly protected under the RIKEN Privacy Policy and will be used only for the purpose of applicant screening. Personal information will not be disclosed, transferred or loaned to a third party under any circumstances without just cause.
Selection Process
Application screening and interviews for selected applicants
Start of Employment
As soon as possible (negotiable)
Contact Information/Send Application to
RIKEN Center for Brain Science
Cognitive Somnology RIKEN Hakubi Research Team
Email: masako.tamaki [at] riken.jp (Replace [at] with @ )
For inquiries, please send an email.