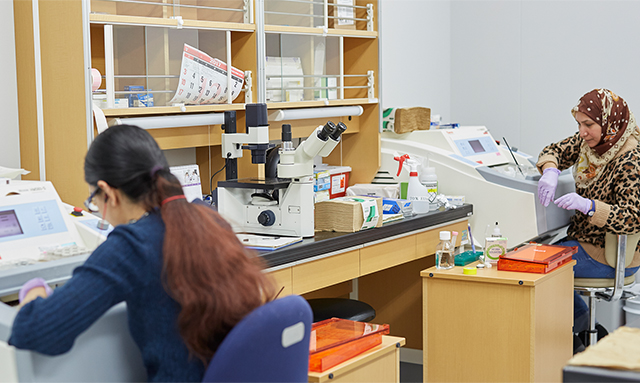 Part-time Staff Position, Ryoichiro Kageyama, Laboratory for Neural Stem Cell Research(W21210)
Nov. 5, 2021
Part-time Staff Position
Laboratory for Neural Stem Cell Research(W21210)
Laboratory
Laboratory for Neural Stem Cell Research, Center for Brain Science (Laboratory Head: Ryoichiro Kageyama)
Research Area
Interdisciplinary
Keyword
Psychology, Human Neuroscience
Research Field
Data-driven research on neurological disorders; human subject research.
Job Title and Job Description
Job title
Research Part-time worker II : 1 position
Job Description
The main duty of the job is to help with data collection in experiments involving human subjects. This involves interacting with the participants, providing instructions, ensuring safety in operating the experimental equipment, as well as assisting in administrative duties such as preparing documents for obtaining ethical approval for studies.
Qualifications
Research Part-time Worker II
A person who is engaged in assisting research activities in order to effectively advance research projects, and who meets either of the following criteria:
A. Enrolled in a master's program and if a non-Japanese citizen, fulfills all of the following conditions:
(1) Can verify having Permission to Engage in Activity other than that Permitted under the Status of Residence Previously Granted
(2) Does not have a concurrent position outside of RIKEN
(3) Works no more than 28 hours per week
B. Has a high level of specialized knowledge or skills

The selected candidate must fulfill the following criteria:
The candidate should possess a bachelor's degree. Basic familiarity with common computer software applications, such as spreadsheet programs, is required. Some experience with data analysis and computer programming are desirable. Because of the nature of the work, communication skills are highly important, in both spoken Japanese and English.
Work Location
Branch and address
RIKEN Wako (2-1 Hirosawa, Wako, Saitama 351-0198)
Salary and Benefits
Hourly wages
1,100-1,300JPY (Research Part-time Worker II)
(Hourly salary will be commensurate with qualifications and experience.)
Terms of contract
The initial contract will be until March 31, 2021.
A one-year fixed-term employment contract, renewable based on the agreement of both parties, to a maximum of five years from the date of hire.
RIKEN may adjust the above maximum period of renewability based on a) the employee's abilities, work load at the time of contract completion, performance and work attitude and b) the continuation of the employee's center, laboratory or project and RIKEN's management situation and budget at the time.
The employee's period of fixed-term employment cannot exceed 5 years from the initial date of hire (or 5 years from April 1, 2013 for fixed-term employees already at RIKEN prior to this date. However, employees who have previously worked at RIKEN may be subject to different rules on period of fixed-term employment. Please refer "RIKEN employment duration for fixed-term employees" for more details if necessary.).
Working days
4-5 days per week
Working hours
The work hours shall be one of the following, with the total time not to exceed 35 hours/week.
1. 9 a.m.–5:20 p.m. (four times or less per week)
2. Set hours between 9 a.m. and 5:20 p.m., in one-hour units.
(Working days and hours are negotiable. However, daily working hours cannot be shifted for different days.)
Holidays
Saturdays and Sundays, Japanese national holidays, New Year holidays (Dec.29-Jan.3), and RIKEN Foundation Day (4th Monday in October).
Other provisions
Worker's accident compensation insurance applies. Social insurance will be applied depending on the working conditions
RIKEN has introduced telework as a temporary and special measure to prevent the spread of COVID-19. You may be asked to work from home according to the instructions of the institute. You can also choose to work from home with the permission of your supervisor.
No smoking on site (designated smoking areas available)
Other provisions are in accordance with RIKEN regulations.
Application and Required Documents
Required Documents
Complete CV (*Write down in the notes section of your CV the number written next to the title of the job position (e.g. W21206)
WORD(56KB) or EXCEL(159KB)
Reason for applying for the post (personal strengths, motivation, etc.)
Consent form for handling personal information based on GDPR
If you are a resident of the European Economic Area (EEA), you are required to submit the document, "Consent form for handling personal information based on GDPR" with your signature.

*You will find detailed information about General Data Protection Regulation (GDPR) on the following website: https://ec.europa.eu/info/law/law-topic/data-protection_en
Note: Application documents will not be returned.
How to apply
Please create a PDF file of the application documents and upload it to the link below.
https://riken-share.ent.box.com/f/8e495923fb5d48cbb615a99353531f6c
Note: All the submitted documents will not be returned.
Deadline
Open until the position is filled
Handling personal data
Submitted documents are strictly protected under the RIKEN Privacy Policy and will be used only for the purpose of applicant screening. Personal information will not be disclosed, transferred or loaned to a third party under any circumstances without just cause.
Selection Process
Selection will be made based on application screening and interviews.
Start of Employment
Negotiable
Contact Information
RIKEN Center for Brain Science
Laboratory for Neural Stem Cell Research
Email: nscr-recruit [at] ml.riken.jp (Replace [at] with @ )
For inquiries, please send an email.