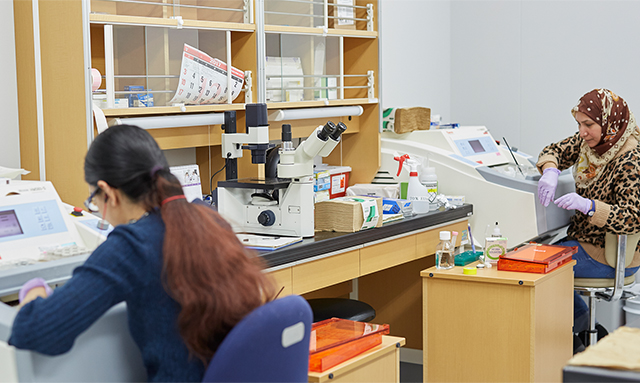 Oct. 18, 2021
Faculty Position in technical development and support for electron microscopy (W21167)
Laboratory
(New Unit) Support Unit for Electron Microscopy Techniques, Research Resources Division (RRD), RIKEN Center for Brain Science (CBS)
Research Area
Biology, Medical Science, Interdisciplinary
Keyword
Brain science,Neuroscience,Cell biology,Electron microscopy,
Research Field
The RIKEN Center for Brain Science (CBS) is Japan's premier neuroscience research center. Taking advantage of the multidisciplinarity of the fields of medicine, biology, chemistry, engineering, mathematical sciences, and psychology, our aim is to advance basic research on the functions of the brain and the mind—from the levels of single cells and whole organisms to societal systems—and develop innovative technologies in the process. We also aim to find solutions to the issues confronting contemporary society, as we grapple with the psychological ramifications of our own inventions such as artificial intelligence (AI) and big data, and as we seek to conquer diseases such as depression and dementia.
For details, please refer to the RIKEN CBS website. https://cbs.riken.jp/en/
Job Title and Job Description
Job title, available positions
Unit Leader (Principal Investigator position); one person
Job Description
As the head of Support Unit for Electron Microscopy Techniques, the successful candidate will be in charge of the Unit and maintain, manage and operate electron microscopes to provide high-quality technical support to CBS researchers. S/he is also expected to develop new technologies related to electron microscopy with assigned technical staff members.
Qualifications
University graduates with a PhD, although doctoral degrees are not a prerequisite
Ability to conduct top-level technical development and support by taking advantage of the excellent research environments of CBS and RIKEN
Possess leadership skills and management ability in the laboratory and the research community
Work Location
Branch and address
RIKEN Wako (2-1 Hirosawa, Wako, Saitama 351-0198)
Salary and Benefits
A one-year fixed-term employment contract, renewable based on annual evaluation, to a maximum of the end of fiscal year 2024 (March 31, 2025).
RIKEN may adjust the above maximum period of renewability based on a) the employee's abilities, work load at the time of contract completion, performance and work attitude and b) the continuation of the employee's center, laboratory or project and RIKEN's management situation and budget at the time. In principle, employment contracts will not be renewed for individuals older than 65 years.
The employee's period of fixed-term employment cannot exceed 10 years from the initial date of hire (or 10 years from April 1, 2013 for fixed-term employees already at RIKEN prior to this date).
RIKEN has indefinite-term Unit Leader positions, which are subject to RIKEN's mandatory retirement age of 60 followed by reemployment program until age of 65. Any scientists, including fixed-term Unit Leaders of RIKEN, are eligible to apply for open calls for indefinite-term positions.
In principle, the first two months of employment is considered a trial period.
Salary will be commensurate with qualifications and experience. Commuting and housing allowances will be provided. Social insurance will be applied. Mandatory membership in the RIKEN Mutual Benefit Society (RIKEN Kyosaikai).
Work hours: 9:00 to 17:20 (lunch break 12:00 to 12:50) in principle. However, employee may change starting and ending times at their own discretion if it does not interfere with work performance.

Days off include public holidays, New Year's holidays (Dec. 29 - Jan 3), and RIKEN Foundation Day.
Paid leave includes annual paid leave (up to 20 days depending on the month of employment), special paid leave (childcare, family nursing care, etc.), and work life balance holidays (up to 7 days depending on the month of employment).
There are also additional leave systems such as maternity leave, childcare leave, and family nursing care leave.
RIKEN has introduced telework as a temporary and special measure to prevent the spread of COVID-19. You may be asked to work from home according to the instructions of the institute. You can also choose to work from home with the permission of your supervisor.
No smoking on site (designated smoking areas available)
These and other provisions are in accordance with RIKEN regulations.
RIKEN is actively undertaking initiatives to promote gender equality and diversity, and moving forward with the establishment of a diverse and vibrant research environment. If multiple candidates are found to have the same aptitude following a fair assessment, active efforts will be made to recruit female candidates.
Also, eligible for an exemption from repayment for category 1 scholarship loans provided by the Japan Student Services Organization before fiscal year 2003, and eligible applying for the MEXT Grants-in-Aid for Scientific Research (Kakenhi).
Application and Required Documents
(All documents, including letters of recommendation, should be written in English)
A cover letter with a brief summary of the current research program and future plans for technical development and support.
Complete CV (with photo, home and office address, telephone number, email address, work history, academic degrees, current affiliation and position, certifications, etc.) *Write down in the notes section of your CV the number written next to the title of the job position (e.g. W21167).
List of research achievements and publications (separate by category: research papers, review papers, patents, etc.)
List of acquired research funding
Research achievements and technical development and support to date
Future plans for technical development and support
Reprints of major research papers you authored (maximum five papers); highlight the titles of these papers in the list of research achievements and publications above (item3).
Three letters of recommendation (including one from the current supervisor, if available.)
The applicant fills in necessary details (name, e-mail address, and the relationship with the applicant) about each referee, and an automatic request will be sent. Please ask each referee to follow the instruction e-mail that will be automatically sent to provide the recommendation letter.
If current supervisor's recommendation is not available, a recommendation letter from a third party will be accepted.
The letter should be prepared as a PDF document as follows:
NB1: Letters of recommendation must be signed (or stamped) by the person writing the letter.
NB2: Letters must be addressed to "Dr. Hiroshi Matsumoto, the President of RIKEN".
Consent form for handling personal information based on GDPR
If you are a resident of the European Economic Area (EEA), you are required to submit the document, "Consent form for handling personal information based on GDPR" with your signature.

*You will find detailed information about General Data Protection Regulation (GDPR) on the following website:
https://ec.europa.eu/info/law/law-topic/data-protection_en
In addition to items 1 to 9 above, during the hiring procedures for successful candidates, a check sheet and a Confirmation of employment duration and duties form and documents for obtaining a work visa for non-Japanese nationals will be required.
How to apply
Please submit the required documents in a PDF file by registering at https://cbs.riken.jp/career-microscope/ (application form URL: https://form.kintoneapp.com/public/form/show/8f8192f5bfebc5d4824a884e34460d0cfa73ec96a5d13a9ac0c97e9b186a4905). Please provide email addresses to contact the referees in the designated line in the application form. An automatic request to provide a recommendation letter will be sent to the referees.
Note: All the submitted documents will not be returned.
Deadline
Applications and letters of recommendation must arrive by 5 pm on December 20, 2021 (Japan time).
Handling Personal Data
Submitted documents are strictly protected under the RIKEN Privacy Policy and will be used only for the purpose of applicant screening. Personal information will not be disclosed, transferred or loaned to a third party under any circumstances without just cause.
Selection Process
Short-listed candidates will be invited to RIKEN CBS for an in-person interview, which will include a seminar, an interview with the Search Committee, and laboratory visits to meet with CBS faculty members. However, depending on the situation of the COVID-19 pandemic, the seminar and interview may be conducted on-line.
Start of Employment
May 1, 2022 or later (negotiable)
Contact Information
CBS Search Committee Administrative Office, RIKEN Center for Brain Science (CBS)
2-1 Hirosawa, Wako, Saitama 351-0198
Inquiries will be accepted by the following e-mail.
E-mail: cbs-search[at]ml.riken.jp (Replace [at] with @)
*Applications are not accepted from this email. Please refer to "Application and Required Documents".