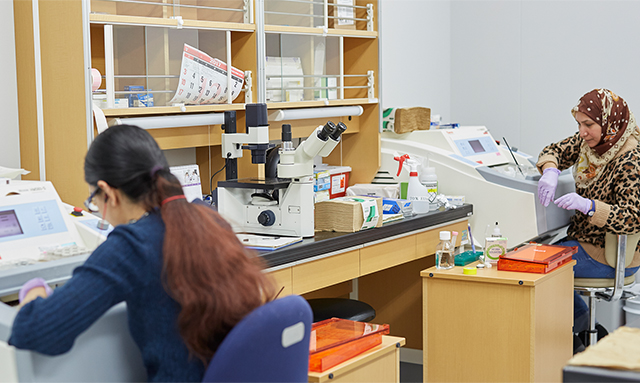 August. 20, 2020
Part-time Worker
Laboratory for Neural Circuit Dynamics of Decision Making (W20059)
Laboratory
Laboratory for Neural Circuit Dynamics of Decision Making, Center for Brain Science (Team leader:Hitoshi Okamoto)
Research area
Other
Keyword
Neuroscience, research support, Global outreach, social media, English writing, English proofreading
About lab
Studies how the neural circuits regulate the process of decision making based on emotion and social context.
Job title and description
Positon & number of opening
Part-time worker, 1 position
Responsibilities
This position is responsible for the center's global outreach activities specified as follows:
SNS English posts on exciting work, educational programs, and general life at CBS (Summer Program, Brain Science Training Program, Postdoc activities)
English website content writing about neuroscience research and related activities in CBS.
Editing and proofreading English documents (SNS, website, administrative and Management-related, science papers, press releases)
Qualifications
Education
Bachelors, Masters or PhD degree, preferably in neuroscience or related field
Experience
Should have native level English writing and communication skills
Should have basic computer skills (Email, Excel, Word, and Power Point)
Should have experience and knowledge of Social media (Twitter, Facebook, Instagram)
Knowledge about neuroscience and working experience in science is preferred.
Work location
Branch and address
RIKEN Center for Brain Science
RIKEN Wako (2-1 Hirosawa, Wako, Saitama 351-0198)
Salary and benefits
Hourly salary
1015~1600 JPY (Hourly salary will be commensurate with qualifications and experience.)
Commuting allowance
Provided (within a pre-determined range.)
Term of contract
From adoption date until March 31, 2021.
(Note: For persons applying from within RIKEN, total years of employment at RIKEN may not exceed 5 years in total, counting from April 1, 2013. Other provisions are the same as for a new hire.) Please refer "RIKEN employment duration for fixed-term employees" for more details if necessary
Working days and hours
9:00 am - 5:20 pm (negotiable)
3 to 4 days, within 35 hours/week with daily working hours
Days off
National holidays, Saturdays and Sundays, year-end holidays, RIKEN Foundation Day
Other conditions
Compulsory welfare program: workers' accident compensation insurance
No smoking on campus except the allowance area
Application and required documents
Required documents
Complete CV WORD(56KB) or EXCEL(159KB)
Writing examples
Reasons for applying for the post
Consent form for handling personal information based on GDPR
If you are a resident of the European Economic Area (EEA), you are required to submit the document, "Consent form for handling personal information based on GDPR" with your signature.

*You will find detailed information about General Data Protection Regulation (GDPR) on the following website: https://ec.europa.eu/info/law/law-topic/data-protection_en
Please make inquiries to the contact address listed below, and then send the PDF formatted application by email at the same contact address.
Note
Application documents will not be returned.
Deadline
Open until the position is filled
Handling personal data
Submitted documents are strictly protected under the RIKEN Privacy Policy and will be used only for the purpose of applicant screening. Personal information will not be disclosed, transferred or loaned to a third party under any circumstances without just cause.
Selection process
Application screening and interview for selected applicants
Start of employment
As early as possible
Remarks
Please contact by email if you have any questions
Contact information/Send application to
RIKEN, CBS outreach section
Email:  W20059 [at] ml.riken.jp (Replace [at] with @)