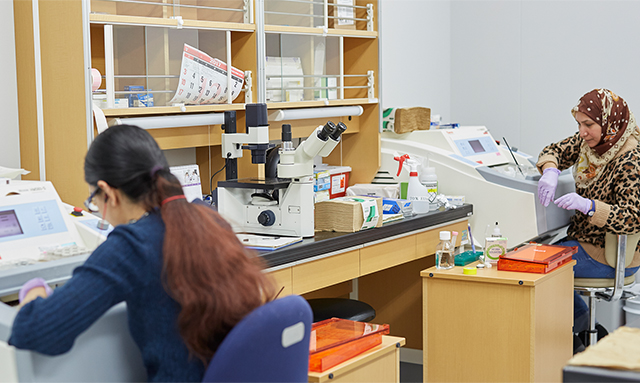 January 29, 2020
Part-time Staff Position
Yukiko Goda, Lab. for Synaptic Plasticity and Connectivity(W19269)
Laboratory
Laboratory for Synaptic Plasticity and Connectivity, Center for Brain Science (Laboratory Head: Dr. Yukiko Goda)
Research Areas
Biology
Research field
The Goda lab studies activity-dependent changes in the efficacy of information transmission across synapses, which are crucial for how the brain reacts to the environment, learns and stores memories. Focusing on the hippocampus and starting from the properties of individual synapses of specific connections, we study the cellular and molecular basis for their interactions with neighboring synapses, neurons and astrocytes in shaping the population activity that supports hippocampal circuit functions and behavior. To address these questions, we take a bottom-up approach using electrophysiology and fluorescence live-imaging in combination with methods of molecular biology, cell biology, and biochemistry.
Please refer to URL below for the lab studies.
https://cbs.riken.jp/en/faculty/y.goda/
Job title and description
Position & number of opening
Research part-time worker II 1 position
Job description
Assist with on-going research projects, including (1) plasmid preparation, immunohistochemistry, virus production, (2) experiments involving mice, such as culture preparation, virus injection, perfusion fixation, tissue sectioning, and (3) organizing laboratory supplies
Educational background
Bachelor's degree in a life science field or equivalent experience.
Expertise in handling and performing procedures involving mice and/or executing molecular biology experiments will be an advantage.
Work location
RIKEN Wako (2-1 Hirosawa, Wako, Saitama, Japan) is located in greater Tokyo area, about 30 min from the center of the city by train.
Salary and benefits
Salary
1,100 – 1,300 yen per hour. (Salary will be commensurate with qualifications and experience.)
Working hours
2-5 days per week, 9:00-17:20 (negotiable); maximum of 35h per week
Allowance
commuting allowance provided (within a pre-determined range.)
Contract period
2020/4/1~2021/3/31
Annual contract renewable upon agreement of both sides, based on skills, work amount at the expiry of the contract, work performance, RIKEN's financial conditions , and others. Total duration may not exceed 5 years, in principle. (Note: For persons applying from within RIKEN, total years of employment at RIKEN may not exceed 5 years in total, counting from April 1, 2013. Other provisions are the same as for a new hire.) Please refer "RIKEN employment duration for fixed-term employees" for more details if necessary
Working days and hours
2-5 days per week, 9:00-17:20 (negotiable); maximum of 35h per week
Days off include public holidays, New Year's holidays (Dec. 29 - Jan 3), and RIKEN Foundation Day.
Others
Worker's accident compensation insurance applies. Social insurance will be applied depending on the working conditions
Other conditions
Compulsory welfare program: workers' accident compensation insurance
No smoking on campus except the allowance area
Application and required documents
Complete CV WORD(56KB) or EXCEL(159KB)
Reasons for applying for the post (personal strengths, motivation, etc.)
Work history
Please make inquiries to the contact address listed below, and then send the PDF formatted application by email at the same contact address.
Write the 5 digit number beginning with "W", indicated in the parentheses next to the job title, in the open call ID section in the upper right corner of your CV.
Note: Application documents will not be returned.
Deadline
Application will be closed when the position is filled.
Handling Personal Data
Submitted documents are strictly protected under the RIKEN Privacy Policy and will be used only for the purpose of applicant screening. Personal information will not be disclosed, transferred or loaned to a third party under any circumstances without just cause.
Selection process
Selection will be made based on application screening and interviews.
Start of employment
April 1st, 2020 (Negotiable)
Remarks
Please contact by email if you have any questions.
Send application to/Contact information
Dr. Yukiko Goda
e-mail: yukiko.goda[at]riken.jp
(application accepted by email only)
Please refer to URL below for job offering in Japanese.
https://cbs.riken.jp/jp/careers/20200129_w19269_y.goda_p.htm

Dr. Yukiko Goda
Laboratory for Synaptic Plasticity and Connectivity
RIKEN Center for Brain Science
2-1 Hirosawa, Wako, Saitama 351-0198, Japan
Email: yukiko.goda[at]riken.jp