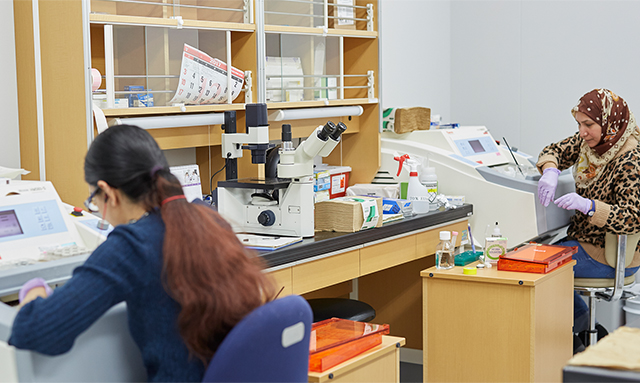 January 29, 2020
Technical staff Position
L. Ian Schmitt, Lab. for Distributed Cognitive Processing(W19266)
Laboratory
Laboratory for distributed cognitive processing, Main Group, Center for Brain Science, (Laboratory Head: L. Ian Schmitt)
Research Areas
Engineering, Mathematical Science, Computational Science, Computer Science, Biology, Interdisciplinary
Keywords
Engineering, Electrical, Programming, C programming, MATLAB programming, Python programming, Arduino electronics, Mouse behavior, Brain histology, Mouse Surgery, Microscopy
Research field
Understanding the basis of cognitive functions like attention and sensory decision-making requires investigation of interactions among complex, interdependent networks of brain circuits. My team studies how these networks are engaged to perform the computations that enable the human ability to flexibly extract meaningful information from a noisy world and use it to guide thought and action. By investigating these processes, we hope to make progress in understanding the basic principles of cognitive function and to translate the insight we obtain into novel treatments to treat complex disorders such as schizophrenia and autism.
https://cbs.riken.jp/en/faculty/l.schmitt/
https://distributedcognitionlab.org/
Job title and job description
Job title, available positions
Technical Staff I or II: 2 position(s)

Technical staff Ⅰ* (discretionary labor system) or technical staff Ⅱ** (non discretionary labor system)
*Technical staff I must provide technical supports independently to implement the lab missions.
**Technical staff II must provide technical supports under the direction of the supervisor.
*The applicant will be assigned to an appropriate position based on his/her ability, aptitude, etc.
Job description
Responsibilities of this position include providing technical support to researchers performing single unit recordings in behaving animals. The technical staff member would be expect to assist with ongoing work under the supervision of team members performing experiments to either maintain/modify electrical equipment or to perform behavioral experiments with and care for animal models (mice). If there is interest, the individual would also be trained to construct implantable electrode microdrives and prepare them for use in recording brain activity.
Qualification
We welcome all qualified candidates but some background in programming (using MATLAB/C/Python) and/or electrical engineering would be helpful. Background in experimental work employing animal models would also be beneficial but is not required. Good manual coordination and skills needed to construct drives would be important if the individual wishes to learn drive building. Key qualifications include:
Bachelor's degree (Life/Natural sciences or engineering preferred)
Good communication in English.
Technical skills and work ethic.
Work location
Branch and address;
RIKEN Wako (2-1 Hirosawa, Wako, Saitama 351-0198) .
Salary and benefits
A one-year fixed-term employment contract, renewable based on evaluation, to a maximum of the end of the fiscal year (March 31) in which the employee completes 7 years of employment.
RIKEN may adjust the above maximum period of renewability based on a) the employee's abilities, work load at the time of contract completion, performance and work attitude and b) the continuation of the employee's center, laboratory or project and RIKEN's management situation and budget at the time. In principle, employment contracts will not be renewed for individuals older than 65 years.
The employee's period of fixed-term employment cannot exceed 10 years from the initial date of hire (or 10 years from April 1, 2013 for fixed-term employees already at RIKEN prior to this date).
In principle, the first two months of employment is considered a trial period.
Salary will be commensurate with qualifications and experience. Commuting and housing allowances will be provided. Social insurance will be applied. Mandatory membership in the RIKEN Mutual Benefit Society (RIKEN Kyosaikai).
Technical staffⅠposition falls under the specialized duties discretionary work system; one working day will be calculated as 7 hours and 30 minutes.
Technical staffⅡfalls under the non-discretionary work system; Work hours: 9:00 to 17:20 (lunch break 12:00 to 12:50). Supervisors may instruct employees to work outside of these hours
No smoking on site (designated smoking areas available)
These and other provisions are in accordance with RIKEN regulations.
RIKEN is promoting a Gender Equity Program by taking various measures to create a workplace where both men and women are able to give full rein to their talents and abilities. When applicants are judged to be equally qualified on the basis of fair and impartial criteria, women applicants will be given preference.
Also, eligible for an exemption from repayment for category 1 scholarship loans provided by the Japan Student Services Organization before fiscal year 2003, and eligible applying for the MEXT Grants-in-Aid for Scientific Research (Kakenhi).
Application and required documents
Complete CV WORD(56KB) or EXCEL(159KB) (with photo and email address)
(Original CV;*Write down in the notes section of your CV the number written next to the title of the job position (e.g. W19266).
List of research achievement and publications
A letter of recommendation from the current supervisor (If unavailable, a letter from a substitute reference will be acceptable.)
Reason for applying for the post
Consent form for handling personal information based on GDPR
If you are a resident of the European Economic Area (EEA), you are required to submit the document, "Consent form for handling personal information based on GDPR" with your signature.

*You will find detailed information about General Data Protection Regulation (GDPR) on the following website: https://ec.europa.eu/info/law/law-topic/data-protection_en
How to apply
Send the PDF formatted application by email to lukas.schmitt [at] riken.jp
(Recommendation letters must be emailed directly from the reference to lukas.schmitt [at] riken.jp, replace [at] with @)
Note
Application documents will not be returned.
Deadline
Open until the position is filled
Handling Personal Data
Submitted documents are strictly protected under the RIKEN Privacy Policy and will be used only for the purpose of applicant screening. Personal information will not be disclosed, transferred or loaned to a third party under any circumstances without just cause.
Selection process
Application screening and interview for selected applicants
Start of employment
April 1st, 2020 (Negotiable)
Contact Information / Send application to
RIKEN Center for Brain Science
Laboratory for Distributed Cognitive Processing
2-1 Hirosawa, Wako, Saitama 351-0198
Email: lukas.schmitt [at] riken.jp (replace [at] with @)
For inquiries, please send an email.