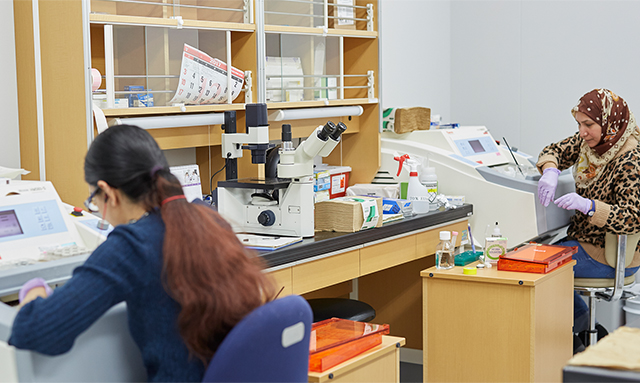 Sep. 6, 2019
Assistant Position
Lukas Ian Schmitt, Lab. for Distributed Cognitive Processing(W19126)
Laboratory
Laboratory for Distributed Cognitive Processing, Center for Brain Science,(Laboratory head:Lukas Ian Schmitt)
Research field
Understanding the basis of cognitive functions like attention and sensory decision-making requires investigation of interactions among complex, interdependent networks of brain circuits. My team studies how these networks are engaged to perform the computations that enable the human ability to flexibly extract meaningful information from a noisy world and use it to guide thought and action. By investigating these processes, we hope to make progress in understanding the basic principles of cognitive function and to translate the insight we obtain into novel treatments to treat complex disorders such as schizophrenia and autism.
Job title and description
Job title, available positions
Assistant 1 position(s)
Job description
Responsibilities of this position include engagement in diverse tasks requiring good organization and communication skills. These will include the following:
Administrative activities such as placement of purchase orders and management of expense.
Regulatory requirements specific to the lab and ensuring all members are in compliance
Maintaining research protocols and ensuring that all experimental procedures are thoroughly documented
Maintaining laboratory inventory records.
Maintenance of records for key equipment and arranging repairs by a third party when necessary
Scheduling meetings and other activities for the team as well as making travel arrangements. Assisting foreign members of the research team with work-related administrative issues. (Applicants should have proficiency in English)
Qualifications
We welcome all qualified candidates but those who have administrative experience and/or a life-science background are preferred. The position requires effective coordination and communication with the team leader and with the RIKEN CBS as a whole. Key qualifications include:
Bachelor's degree (Life/Natural sciences preferred)
Native Japanese level for written and oral communication.
Good communication in English.
Strong organizational skills and work ethic.
Prior experience with scientific communication would be beneficial but is not required
Work location
Branch and address
RIKEN Wako (2-1 Hirosawa, Wako, Saitama 351-0198)
Salary and benefits
A one-year fixed-term employment contract, renewable based on evaluation, to a maximum 5 years of employment.
RIKEN may adjust the above maximum period of renewability based on a) the employee's abilities, work load at the time of contract completion, performance and work attitude and b) the continuation of the employee's center, laboratory or project and RIKEN's management situation and budget at the time. In principle, employment contracts will not be renewed for individuals older than 65 years.
The employee's period of fixed-term employment cannot exceed 5 years from the initial date of hire (or 5 years from April 1, 2013 for fixed-term employees already at RIKEN prior to this date. However, employees who have previously worked at RIKEN may be subject to different rules on period of fixed-term employment. Please refer "RIKEN employment duration for fixed-term employees" for more details if necessary.).
In principle, there will be a trial period of employment (2 months).
Salary will be commensurate with qualifications and experience. Commuting and housing allowances will be provided. Social insurance will be applied. Mandatory membership in the RIKEN Mutual Benefit Society (RIKEN Kyosaikai).
Work hours: 9:00 to 17:20 (lunch break 12:00 to 12:50). Supervisors may instruct employees to work outside of these hours.
Days off include public holidays, New Year's holidays (Dec. 29 - Jan 3), and RIKEN Foundation Day.
These and other provisions are in accordance with RIKEN regulations.
RIKEN is promoting a Gender Equity Program by taking various measures to create a workplace where both men and women are able to give full rein to their talents and abilities. When applicants are judged to be equally qualified on the basis of fair and impartial criteria, women applicants will be given preference.
https://www.riken.jp/en/careers/working-at-riken/
Application and required documents
Required documents
Complete CV (with photo and email address) WORD(56KB) or EXCEL(159KB)
*Write the RIKEN job ad number "W19126", indicated in the parentheses next to the job title, in the RIKEN job ad number section in the upper right corner of your CV.
Reason for applying for the post (personal strengths, motivation, etc.)
1 letters of recommendation (including one from the current supervisor, if available, If the current supervisor's recommendation is not available, a recommendation letter from a third party will be accepted)
Consent form for handling personal information based on GDPR
If you are a resident of the European Economic Area (EEA), you are required to submit the document, "Consent form for handling personal information based on GDPR" with your signature.

*You will find detailed information about General Data Protection Regulation (GDPR) on the following website:
https://ec.europa.eu/info/law/law-topic/data-protection_en
How to apply
Send the PDF formatted application by email to lucidian[at]ml.riken.jp
(Recommendation letters must be emailed directly from the reference to lucidian[at]ml.riken.jp)
Note
Application documents will not be returned.
Deadline
Open until the position is filled
Handling personal data
Submitted documents are strictly protected under the RIKEN Privacy Policy and will be used only for the purpose of applicant screening. Personal information will not be disclosed, transferred or loaned to a third party under any circumstances without just cause.
Selection process
Application screening, interview and oral presentation by selected applicants
Start of employment
January 1st, 2020 (Negotiable)
Contact information/Send application to
RIKEN Center for Brain Science
Laboratory/Research Unit for distributed cognitive processing
2-1 Hirosawa, Wako, Saitama 351-0198
Email: lucidian[at]ml.riken.jp (Replace [at] with @ )
For inquiries, please send an email.