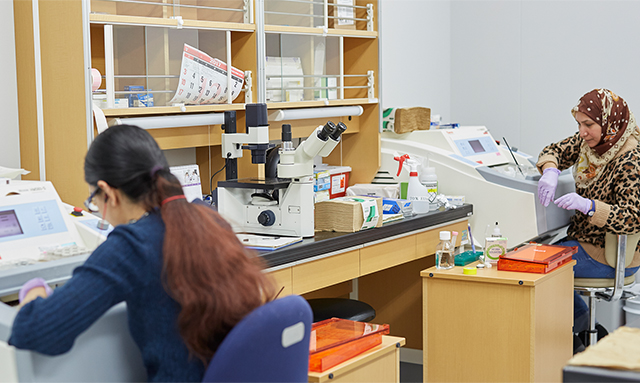 Apr. 11, 2019
Part-time Worker Position
Laboratory for Synaptic Molecules of Memory Persistence
Center for Brain Science (W19011)
Laboratory
Laboratory for Synaptic Molecules of Memory Persistence, Center for Brain Science (Team leader: Thomas Launey)
Research Field
Our laboratory studies the cellular mechanisms of memory formation in cerebellum.
https://cbs.riken.jp/en/faculty/t.launey/
Job title and Job description
Part-time worker, 1 position
The candidate will be part of the research team and will manage reagent/equipment ordering, communication with suppliers and budget.
He/She will assist the lab head to assure efficient laboratory operations.
Research support in scientific communication.
Assist foreign members of the research team to solve work-related administrative issues.
Qualification
Bachelor degree in Life/Natural Sciences, preferably Biology/Chemistry or equivalent professional experiences
Native Japanese level for oral and written communication
Good oral communication in English.
Good organization and work ethics
Prior experience in scientific communication would be appreciated.
Work location
Branch and address
RIKEN Wako (2-1 Hirosawa, Wako, Saitama 351-0198)
Salary and benefits
Hourly rate: 1000-1600 JPY (salary will be commensurate with qualifications and experience)
Allowances: commuting allowance
Contract period: as soon as possible (but negotiable) to March 31, 2020.
Annual contract renewable upon agreement of both sides, based on skills, work amount at the expiry of the contract, work performance, RIKEN's financial conditions , and others. Total duration cannot exceed 5 years from the initial date of hire. Please refer "RIKEN employment duration for fixed-term employees" for more details if necessary.).
Hours: At least 20h/week with negotiated schedule (flexible).
Days off: National holidays, Saturdays and Sundays, year-end holidays, RIKEN Foundation Day
Compulsory welfare program: workers' accident compensation insurance
Application and required documents
Required documents
For those applying to the Research Scientist position:
Complete CV
Please send your application by email.

* Write the 4 digit number beginning with "W", indicated in the parentheses next to the job title, in the open call ID section in the upper right corner of your CV.
How to apply
Send the PDF formatted application by email to thomas.launey[at]riken.jp (Replace [at] with @)
Note
Application documents will not be returned.
Deadline
Open until the position is filled
Handling personal data
Submitted documents are strictly protected under the RIKEN Privacy Policy and will be used only for the purpose of applicant screening. Personal information will not be disclosed, transferred or loaned to a third party under any circumstances without just cause.
Selection process
Application screening and interview for selected applicants
Start of Employment
As soon as possible
Contact Information / Send application to
RIKEN, CBS
Laboratory for Synaptic Molecules of Memory Persistence
Attn: Thomas Launey
Email: thomas.launey[at]riken.jp (Replace [at] with @)