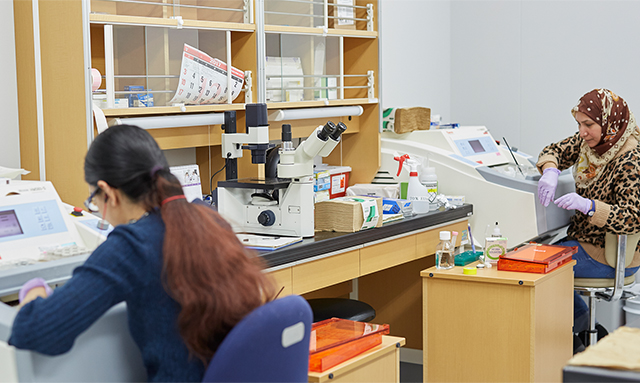 Nov. 9, 2018
Research scientist/Technical staff position
Shingo Shimoda Intelligent behavior control unit, CBS-TOYOTA Collaboration Center
Center for Brain Science (W18073)
Laboratory
Intelligent behavior control unit, CBS-TOYOTA Collaboration Center, Center for Brain Science (Team leader: Shingo Shimoda)
Research field
All living organisms can create appropriate behaviors adapted to the natural environment without any supervising signals from the global point of view. The purpose of our unit is to clarify the control mechanism behind this capability of living organisms and apply it for post-stroke rehabilitations and for controlling artifacts. Our research targets includes the modeling of biological control mechanism, understanding humans' activities measuring brain activities, development of the rehabilitation system based on the biological control principle and robot autonomous controls.
Job title and job description
Job title, available positions
Research Scientist, technical staff I (discretionary labor system), or technical staff II (non-discretionary labor system) : 1 position
*Job judgment will be decided and decided based on applicant's ability, aptitude etc.
Position-specific task is as follows:
[Research Scientist]
Carries out research in accordance with team research plan.
[Technical Staff I]
Provides technical support at their own discretion for laboratory
[Technical Staff II]
Provides technical support for laboratory
Job description
A person who is interested in followings:
Brain imaging using fMRI, fNIRS and EEG
Analysis of biological control principle
Development of rehabilitation system based on EEG and EMG
Clinical test for post-stroke rehabilitation
Qualifications
Research Scientist
Applicant to research scientist should have, be expecting to receive, a Ph.D. Applicant to technical stuff is unnecessary for having a Ph.D. Applicant have high motivation and a keen interest in the research field described above. The skills and the experiences
fMRI, NIRS and EEG measurement and analysis
computer programing
clinical test for rehabilitation
are desirable.
Technical Staff
Applicant who are interested in the above job to support the lab research activities, and who are interested in getting the Ph.D is also acceptable,
Work location
Branch and address
RIKEN Nagoya branch, 2271-130 Anagahora, Shimo-Shidami, Moriyama-ku, Nagoya, Aichi
Salary and benefits
A one-year fixed-term employment contract, renewable based on evaluation, to a maximum of the end of the fiscal year (March 31) in which the employee completes 7 years of employment.
RIKEN may adjust the above maximum period of renewability based on a) the employee's abilities, work load at the time of contract completion, performance and work attitude and b) the continuation of the employee's center, laboratory or project and RIKEN's management situation and budget at the time. In principle, employment contracts will not be renewed for individuals older than 65 years.
The employee's period of fixed-term employment cannot exceed 10 years from the initial date of hire (or 10 years from April 1, 2013 for fixed-term employees already at RIKEN prior to this date).
In principle, there will be a trial period of employment (2 months).
Salary will be commensurate with qualifications and experience. Commuting and housing allowances will be provided. Social insurance will be applied. Mandatory membership in the RIKEN Mutual Benefit Society (RIKEN Kyosaikai).
Position of Research Scientist / Technical staffⅠfalls under the specialized duties discretionary work system; one working day will be calculated as 7 hours and 30 minutes.
Technical staffⅡfalls under the non-discretionary work system; Work hours: 9:00 to 17:20 (lunch break 12:00 to 12:50). Supervisors may instruct employees to work outside of these hours.
Days off include public holidays, New Year's holidays (Dec. 29 - Jan 3), and RIKEN Foundation Day.
These and other provisions are in accordance with RIKEN regulations.
RIKEN is promoting a Gender Equity Program by taking various measures to create a workplace where both men and women are able to give full rein to their talents and abilities. When applicants are judged to be equally qualified on the basis of fair and impartial criteria, women applicants will be given preference.
http://www.riken.go.jp/en/careers/working-at-riken/benefits/
Also, eligible for an exemption from repayment for category 1 scholarship loans provided by the Japan Student Services Organization before fiscal year 2003, and eligible applying for the MEXT Grants-in-Aid for Scientific Research (Kakenhi).
Application and required documents
Required documents
Complete CV WORD(56KB) or EXCEL(159KB)
List of research achievement and publications
2 letters of recommendation (including one from the current supervisor, If available)
How to apply
Send the PDF formatted application by email to shingo.shimoda [at]riken.jp(Replace [at] with @ )
Deadline
Open until the position is filled.
Handling personal data
Submitted documents are strictly protected under the RIKEN Privacy Policy and will be used only for the purpose of applicant screening. Personal information will not be disclosed, transferred or loaned to a third party under any circumstances without just cause.
Selection process
Selection will be made based on application screening and interviews.
Start employment
Negotiable after April 1st, 2019
Contact Information / Send application to
Dr. Shingo Shimoda
Email: shingo.shimoda [at]riken.jp (Replace [at] with @ )