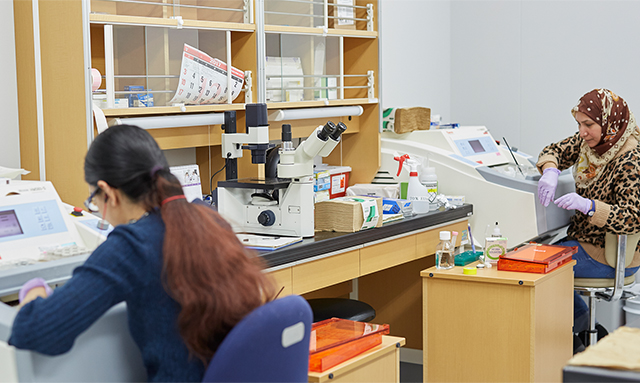 Jun. 8, 2018
Postdoctoral research scientist position (Computational neuroscience)
Hiroyuki Nakahara Lab. for Integrated Theoretical Neuroscience
Center for Brain Science (W890)
Laboratory
Laboratory for Integrated Theoretical Neuroscience (Laboratory head: Hiroyuki Nakahara)
Research field and overview
We are interested in understanding the computational principles that underlie the way neural systems realize decision-making and adaptive behavior; in particular, reward-based decision-making and learning (reinforcement learning), and social decision-making and learning. For more information, please see our HP: http://www.itn.brain.riken.jp .
Job title, available positions and job description
Job title, available positions
Postdoctoral Research Scientist in computational neuroscience: 1 position 
Job description
We seek a highly motivated postdoctoral fellow to work on computational and mathematical models of neural processing, to uncover the computational principles or their generative models. The models are often motivated by normative frameworks such as reinforcement learning and Bayesian theory and constrained by neurobiological and psychological data. Examples of our current interest include (but not limited to):
REINFORCEMENT LEARNING: valuation, decision-making and learning, interacted with emotions; in relation to structural and representational learning, or model-based learning; with inference on environments; coupled with meta-cognition and/or mental accounting (neuroeconomics)
SOCIAL LEARNING AND DECISION MAKING: decisions and learning with theory of mind; learning models of others' minds and associated inferences; empathy and decision making with inference of others' emotions; structural learning for rich repertoire of other individuals' decision-making
To validate our proposals and models, a prospective fellow is expected to use simulations in comparison to existing data, which is likely complemented with our own crowdsourcing or behavioral experiments. In addition, s/he is expected to be willing to collaborate with experimental investigations that other scientists conduct (e.g., in-house fMRI).
Qualifications
Applicants should have (or be expecting to receive, before the work start date here) a Ph.D. in computational neuroscience or a relevant field. Robust experience and demonstrated achievement in the research related to our interest is expected. Proficiency in programming (e.g., MATLAB) is expected.
Work location
Branch and address
RIKEN Wako (2-1 Hirosawa, Wako, Saitama 351-0198)
Salary and benefits
A one-year fixed-term employment contract, renewable based on evaluation, to a maximum of the end of the fiscal year (March 31) in which the employee completes 7 years of employment.
RIKEN may adjust the above maximum period of renewability based on a) the employee's abilities, work load at the time of contract completion, performance and work attitude and b) the continuation of the employee's center, laboratory or project and RIKEN's management situation and budget at the time. In principle, employment contracts will not be renewed for individuals older than 65 years.
The employee's period of fixed-term employment cannot exceed 10 years from the initial date of hire (or 10 years from April 1, 2013 for fixed-term employees already at RIKEN prior to this date).
The salary system is annual and will be commensurate with qualifications and experience. Commuting and housing allowances will be provided. Social insurance will apply.
Mandatory membership in the RIKEN Mutual Benefit Society (RIKEN Kyosaikai) is required.
Days off include public holidays, New year's holidays (Dec. 29 – Jan. 3), and RIKEN Foundation Day.
These and other provisions are in accordance with RIKEN regulations.
※RIKEN promotes a Gender Equity Program by taking various measures to create an equitable workplace where both men and women are able to give full rein to their talents and abilities. When the abilities of candidates are judged to be equivalent through a fair and impartial evaluation process, preference will be given to females.
http://www.riken.jp/careers/gender/
*Also, eligible for an exemption from repayment for category 1 scholarship loans provided by the Japan Student Services Organization before fiscal year 2003, and eligible for applying for MEXT Grants-in-Aid for Scientific Research (Kakenhi)
Other
Applicants are also encouraged to apply for JSPS or other external funds.
Application and required documents
Required documents
Cover letter
CV WORD(56KB) or EXCEL(159KB)
*Write the 4 digit number beginning with "W890", indicated in the parentheses next to the job title, in the open call ID section in the upper right corner of your CV.
List of research achievements including publications
Statement of research interests and reasons for wanting to join the lab (up to ~2 page)
Names and contact information of three references with a brief description of your relationship to each reference, including the current supervisor if available.
(Optional) any additional information you think may be useful (e.g. skills, experience, and background; hobbies, general interests, and so on)
How to apply
Please send the above application documents (PDF formatted) to itninfo [at] brain.riken.jp as email attachment, with subject: postdoctoral position (computational neuroscience).
Note
Application documents will not be returned.
Deadline
Open until the position is filled
Handling personal data
Submitted documents are strictly protected under the RIKEN Privacy Policy and will be used only for the purpose of applicant screening. Personal information will not be disclosed, transferred or loaned to a third party under any circumstances without just cause.
Selection process
Application screening, and then interview and oral presentation by selected applicants
Start employment
An early starting time is preferred, although negotiable.
Contact information/Send application to
Please send application to itninfo [at] brain.riken.jp as email attachment, with subject: postdoctoral position (computational neuroscience).
Informal enquiry should also be sent to the email account.