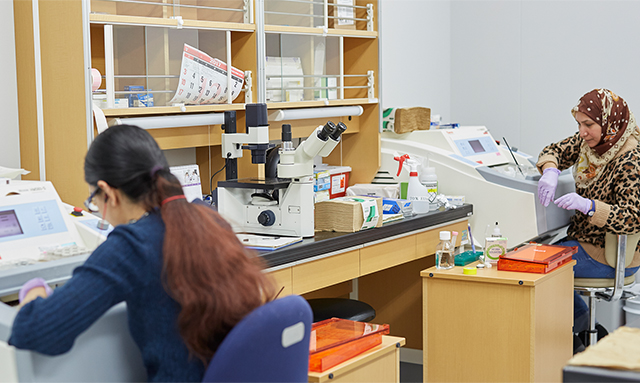 Research Scientist Position at Lab for Marmoset Neural Architecture, Center for Brain Science(W870)
May 9, 2018
Research Scientist Position at Laboratory for Marmoset Neural Architecture, Center for Brain Science(W870)
Laboratory
Laboratory for Marmoset Neural Architecture, Center for Brain Science (Laboratory head:Hideyuki Okano)
Research field and overview
The Marmoset Brain Architecture Project, a collaborative effort between professors Partha P. Mitra (Cold Spring Harbor Laboratory, USA) and Hideyuki Okano (Riken CBS, Japan) aims to complete a mesoscale connectivity map of the whole marmoset brain. This project is supported by the Brain Mapping of Integrated Neurotechnologies for Disease Studies (Brain/MINDS) http://brainminds.jp/ from the Japan Agency for Medical Research and Development, AMED (https://www.amed.go.jp/). This ambitious project is the first time such a comprehensive mapping attempt has been made for a primate brain, using tracer injections placed on a systematic grid, followed by histological processing and digital imaging of the entire brain at a light microscope resolution. The high-throughput neurohistological pipeline is modeled from the pipeline in Dr. Mitra's laboratory at CSHL to obtain a mesoscale projection map in the mouse (http://mouse.brainarchitecture.org). We established the Riken CBS, Japan laboratory in 2015 and have already digitized 27 whole-brain tracer injection datasets which are now in the process of computational neuroanatomical analysis. Our projected target is approximately 65 datasets. This project also has several collaborations around the world, particularly with Dr. Marcello Rosa in Monash University, Australia http://marmoset.braincircuits.org/ .
Job title, available positions and job description
Job title, available positions
Research Scientist 1 position

Job description
The Research Scientist for this project will be responsible for the experimental components of the project, managing a team of multicultural research technicians and also being involved hands-on in the day-to-day operations of this high throughput anatomical pipeline. Although not an independent research position, the applicant is expected to have the scientific and professional maturity to deal with both scientific and technical issues that may arise in the project with supervisory input from Dr. Mitra as well as with his laboratory and team members. Ideally the applicant will have some training in animal neuroanatomy (or a related subject) and/or also have technological skills required to run a semi-automated tissue processing pipeline. This project is in the publication stage and the candidate will be expected to participate in the production of these manuscripts.
Qualifications
It is essential that the applicants have superb communication and interpersonal skills. Fluent Japanese and English in writing and speaking is required. Responsibilities include writing reports in Japanese about the Brain/MINDS project, attending regular meetings with CBS, Brain/MINDS offices, and communicating with other labs to support cooperation and to establish negotiations with Research Resources Division (RRD), other research companies, and other labs.
Candidates with a PhD in a relevant neuroscience area, or a professional degree in an engineering subject with exposure to experimental neuroscience, should apply for this position.
Work location
Branch and address
RIKEN Wako (2-1 Hirosawa, Wako, Saitama 351-0198)
Salary and benefits
One-year fixed-term employment contract, renewable, and based on evaluation, up until March 31, 2024.
RIKEN may adjust the above maximum period of renewability based on a) the employee's abilities, work load at the time of contract completion, performance and work attitude and b) the continuation of the employee's center, laboratory or project and RIKEN's management situation and budget at the time. In principle, employment contracts will not be renewed for individuals older than 65 years.
The employee's period of fixed-term employment cannot exceed 10 years from the initial date of hire (or 10 years from April 1, 2013 for fixed-term employees already at RIKEN prior to this date).
The salary system is annual and will be commensurate with qualifications and experience. Commuting and housing allowances will be provided. Social insurance will apply. Mandatory membership in the RIKEN Mutual Benefit Society (RIKEN Kyosaikai) is required.
Days off include public holidays, New year's holidays (Dec. 29 – Jan. 3), and RIKEN Foundation Day.
These and other provisions are in accordance with RIKEN regulations.
※RIKEN promotes a Gender Equity Program by taking various measures to create an equitable workplace where both men and women are able to give full rein to their talents and abilities. When the abilities of candidates are judged to be equivalent through a fair and impartial evaluation process, preference will be given to females.
http://www.riken.jp/careers/gender/
*Also, eligible for an exemption from repayment for category 1 scholarship loans provided by the Japan Student Services Organization before fiscal year 2003, and eligible for applying for MEXT Grants-in-Aid for Scientific Research (Kakenhi)
Application and required documents
Required documents
A cover letter
CV WORD(56KB) or EXCEL(159KB) (with photo and email address)
*Write the 4 digit number beginning with "W870", indicated in the parentheses next to the job title, in the open call ID section in the upper right corner of your CV.
The names and email addresses of two references
A letter of recommendation including one from the current supervisor
(If the current supervisor's recommendation is not available, a recommendation letter from a third party will be accepted)

How to apply
Send the PDF formatted application by email to mitragroup[at]ml.riken.jp (Replace [at] with @)
(Recommendation letters must be emailed directly from the reference to the email address above)
Note: Application documents will not be returned.

Deadline
Open until the position is filled

Handling personal data
Submitted documents are strictly protected under the RIKEN Privacy Policy and will be used only for the purpose of applicant screening. Personal information will not be disclosed, transferred or loaned to a third party under any circumstances without just cause.

Selection process

Application screening and interview for selected applicants

Start employment

As early as possible

Contact information/Send application to

RIKEN Center for Brain Science
Laboratory for Marmoset Neural Architecture
2-1 Hirosawa, Wako, Saitama 351-0198
Tel: +81 (0)48 462 1111 (Ext. 7361)
Email: mitragroup[at]ml.riken.jp (Replace [at] with @)
For inquiries, please send an email.