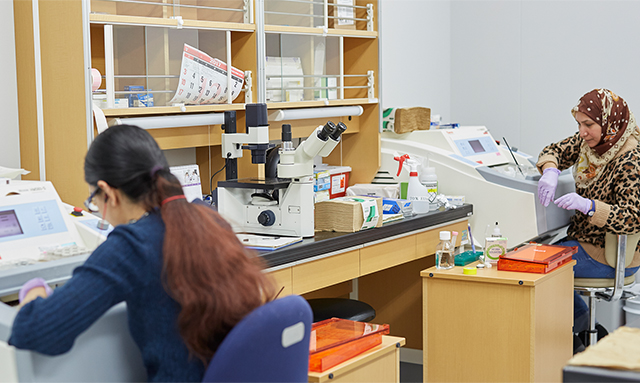 April 12, 2018
Benucci/Johansen/McHugh Laboratories, Center for Brain Science, RIKEN
Assistant position (W852)
Laboratory
Laboratory for Neural Circuits and Behavior (Andrea Benucci)
Laboratory for Neural Circuitry of Learning and Memory (Joshua Johansen)
Laboratory for Circuit and Behavioral Physiology (Thomas McHugh)
Job title, available positions and job description
Job title, available positions
Assistant position (1-2 positions)
Job description
Seeking an administrative assistant for three international (combination of foreign and Japanese personnel) laboratories. Main duties will be to coordinate with central administrative offices within CBS and RIKEN for purchasing, lab management and budget matters as well as provide language support for international staff.
Qualifications
The ideal candidate will have administrative experience and speak both English and Japanese. Work experience at RIKEN is a plus, but not required.
Work location
Branch and address
RIKEN Wako (2-1 Hirosawa, Wako, Saitama 351-0198)
Salary and benefits
One year fixed-term employee contract renewable based on evaluation up to maximum of 5 years from initial date of hire.
RIKEN may adjust the above maximum period of renewability based on a) the employee's abilities, work load at the time of contract completion, performance and work attitude and b) the continuation of the employee's center, laboratory or project and RIKEN's management situation and budget at the time. In principle, employment contracts will not be renewed for individuals older than 65 years.
The employee's period of fixed-term employment cannot exceed 5 years from the initial date of hire (or 5 years from April 1, 2013 for fixed-term employees already at RIKEN prior to this date).
The salary system is annual and will be commensurate with qualifications and experience. Commuting and housing allowances will be provided. Social insurance will apply. Mandatory membership in the RIKEN Mutual Benefit Society (RIKEN Kyosaikai) is required.
Days off include public holidays, New year's holidays (Dec. 29 – Jan. 3), and RIKEN Foundation Day.
These and other provisions are in accordance with RIKEN regulations.
※RIKEN promotes a Gender Equity Program by taking various measures to create an equitable workplace where both men and women are able to give full rein to their talents and abilities. When the abilities of candidates are judged to be equivalent through a fair and impartial evaluation process, preference will be given to females.
http://www.riken.jp/careers/gender/
Application and required documents
Required documents
Complete CV WORD(56KB) or EXCEL(159KB)

Please send your application by email.
How to apply
Send the PDF formatted application by email to jjohans[at]brain.riken.jp
(Recommendation letters must be emailed directly from the reference to jjohans[at]brain.riken.jp)
Note: Application documents will not be returned.
Deadline
Open until the position is filled
Handling personal data
Submitted documents are strictly protected under the RIKEN Privacy Policy and will be used only for the purpose of applicant screening. Personal information will not be disclosed, transferred or loaned to a third party under any circumstances without just cause.
Selection process
Application screening and interview for selected applicants
Start employment
As early as possible
Contact information/Send application to
RIKEN Center for Brain Science
Laboratory for neural circuitry of learning & memory
Laboratory for circuit and behavioral physiology
Laboratory for neural circuits and behavior

2-1 Hirosawa, Wako, Saitama 351-0198
Email: jjohans[at]brain.riken.jp
For inquiries, please send an email.